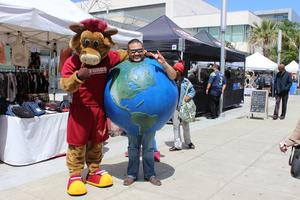 Teddy Toro celebrated Earth Day two years ago with fellow Toros and campus community. Photo courtesy of CSUDH Office of Sustainability. Photo courtesy of Office of Sustainability
By Benjamin Gomez | Staff Reporter
Most people see an empty soup can and think it has served its purpose and belongs in the trash.
Brittany Black sees something that can help sustain life.
Demonstrating how to turn a tin can into a flower planter by drilling a few holes in the bottom is one of the ways that Black and her colleagues at the CSUDH Office of Sustainability have spent the past month.
The office has hosted  Zoom workshops during its March Race to Reduce Month. It's part of its commitment to engage staff, students, and academic departments to support projects that will reduce individual and collective carbon footprints.
The final workshop, isis titled "Rethink Your Drink & Sustainable Coffee/Tea." It will be held March 24 from noon – 1 p.m. To. register for the event, click here.
Past workshops included a CalFresh nutrition education course, a cooking demonstration, and a sustainable crafting activity. 
The Goal is Zero Waste
Kelly Hendergart, like Black, is a student assistant for the Office of Sustainability. She said the idea behind the workshops is to teach students healthy shopping, eating and cooking hacks. The goal? A zero-waste way of life.
"The goal of our programming is to provide the campus community with information to help reduce our carbon footprint on both an individual and university wide level," Hendergart said.

The Office of Sustainability was founded in 2017 . It offers multiple campus programs to help it go green, and stay green. The CSUDH Farmer's Market, Toro Pantry, and the Urban Farm are examples of how it promotes an environmentally friendly lifestyle and community. 
Hendergart worked with Black on the second virtual workshop: How to Read a Food Label & Food Packaging Upcycling. They explained how to read and understand the nutrition values on the side of food packaging. Nutrition facts can be hard to understand due to different measurements and percentages recommended by the FDA. But Hendergart and Black made it seem simple.
"We hope to provide people with nutrition education and access to basic needs resources while also providing tips for living a more sustainable lifestyle," Hendergart said.
To learn more ways to go green, the Sustainability Club hosts clubs every Friday from 10 – 11 a.m. Students from all majors are welcome to join.
csudhbulletin