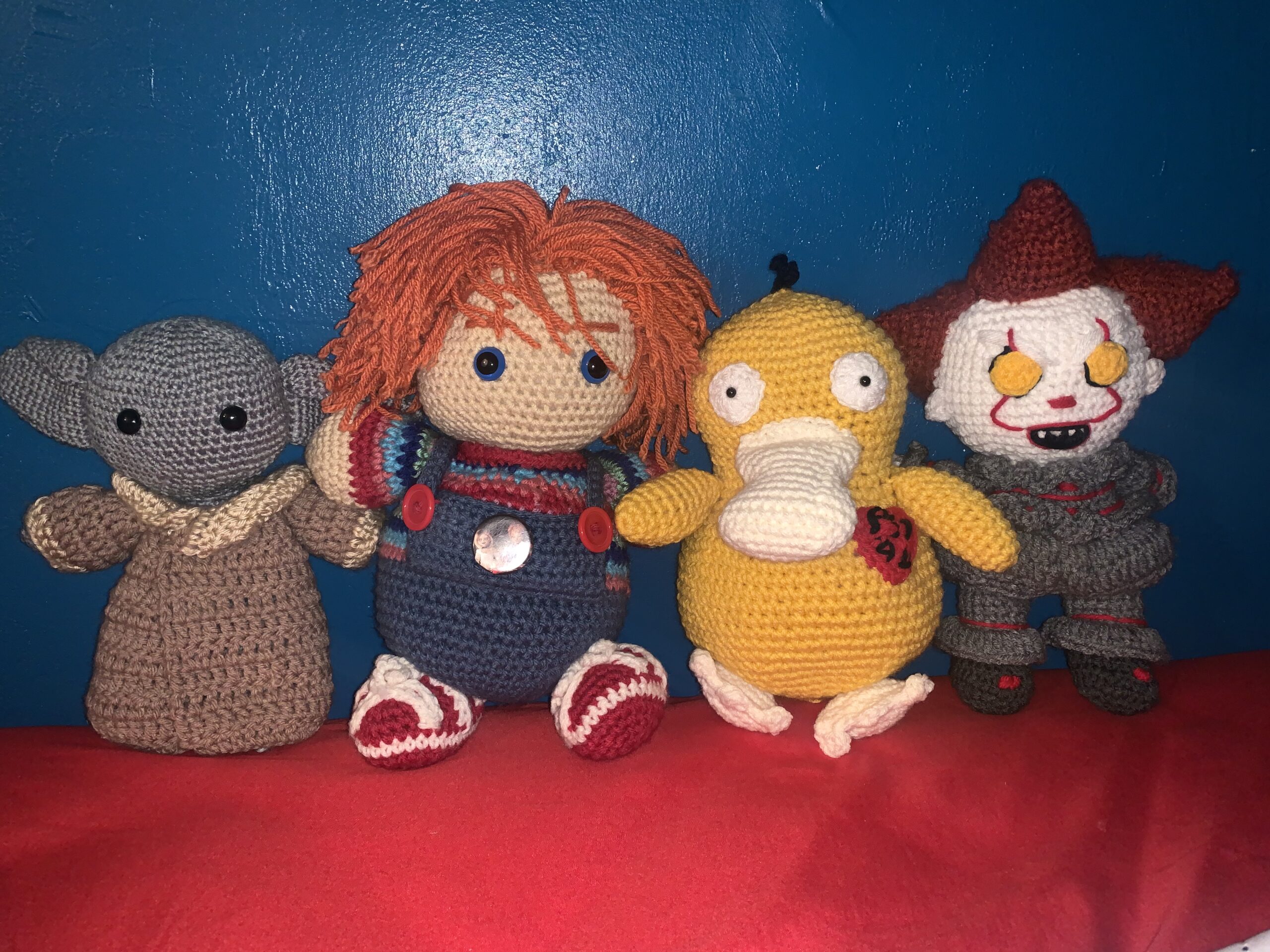 Every character has its own personality and each one is stitched with love Photo by Isabel Flores. 
By Gabriela Medina, Staff Reporter
Life has gotten hectic since the pandemic started and has even impacted the lives of many individuals both emotionally and financially. Students on the other hand, have found these issues to be particularly difficult due to the added pressure of paying for their academic needs. However, two students from California State University, Dominguez Hills decided to take a different approach in the work field to start their own small business. Child development student Jennifer Cordova and second-year student Isabel Flores who is majoring in studio art, have made their own realities come to life amidst a global pandemic.
Cordova is one of those students, who unfortunately lost her job during the pandemic. Only, instead of searching for a new job, she became the boss of her own beautiful business selling cosmetics. "I did lose my job due to COVID-19, but unfortunately because we were let go with no way to go back, I decided to start Jenny's Lash Boutique because I didn't want to be exposed to the virus and preferred to work from home," Cordova said.
Like most unemployed individuals, some college students' initial thoughts were to apply for unemployment as well, hoping to get some help in order to get by. But Cordova, being a full-time student, felt that she was not receiving enough and knew she had to do something about it in order to make ends meet.
"I applied for unemployment, but it didn't give me enough to cover much of my expenses. They only gave me around $60 every week," said Cordova. She then decided to create an Instagram account of her small eyelash collection to showcase to her family, closest friends, and neighbors, but to her surprise, her first video on TikTok went viral with 264.6k views. From then on, it was like a snowball effect, her followers increased, and as a result, so did her orders. Before her viral TikTok, she would have one order every one or two weeks, shortly after, she was getting a minimum of 30 in one day. Now that's impressive!
"It was so unexpected. It started off in that small bubble, and then afterwards, I joined TikTok, where I started posting videos that went world-wide, allowing there to be an increase in more sales," Cordova said. "I have already shipped all over the United States and am now expanding my business to Canada!"
Cordova was not the only student interested in being her own boss. Flores used her passion and creativity to start her own business in crocheting backpacks and famous characters like the iconic Baby Yoda, Chucky, Mickey Mouse and other lovable figures.
"Nobody was hiring since all businesses were on pause with applications. I was making money before the pandemic, but I didn't take it as seriously. I got tired of taking out loans and didn't want to be in as much debt by the time I graduate," Flores said.
Being the artist she is, Flores had first started selling portraits by commission and decided to stop because she wanted to save her materials strictly for school and not use them as her hustle. She turned to crochet, one of her favorite hobbies that she picked up in high school.
"It started off as a hobby and when I showed my mom she was so proud of me that she took pictures and showed them off, which is how my small business started getting recognized," Flores said. "I've been doing this for about two years. I'm not very tech-savvy so I don't know how to use TikTok in a way to make content, I just enjoy watching the videos."
Starting her small business has allowed Flores to step out of her comfort zone and has learned how to be more social with others. Flores describes the heart-warming reaction her customers get when they receive her product and ensures that a price can not be put on their happiness.
"I want to stop being anonymous and I know I will eventually have to show myself which makes me feel frightened because I'm very antisocial. But my business is slowly showing me how to be open to more people. I have gotten a network of loyal customers and it's encouraged me to start a platform on social media," said Flores.
---
Because of her loyal customers, she has finally decided to create an Instagram account dedicated to her crocheting and soon hopes to launch her own website.
Both of these vibrant business owners shared their agreement on the key to success: do your research. Starting your own business can impact your own life in such a positive way, and these two CSUDH students have made themselves the poster child of what the impact of owning a small business in a global pandemic can have on a student that is struggling to make ends meet. Support can come a long way, so next time you're thinking about shopping around, think small and support a local business.
csudhbulletin