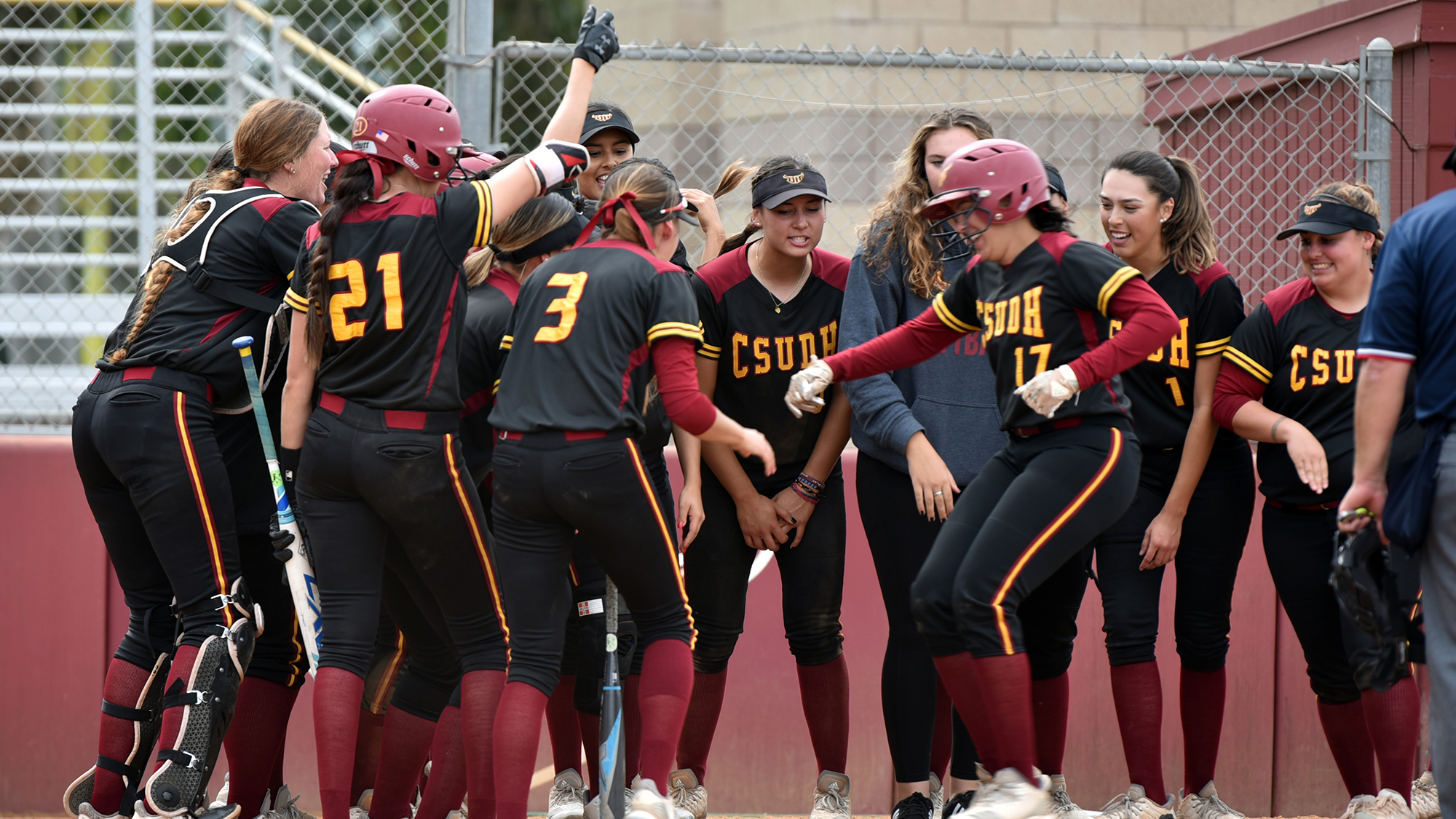 By Salvador Oceguera 
Staff Writer

Roughly one-third of the way through their seasons, the CSUDH softball and baseball teams would make strange partners on the dance floor. Through their first 17 games, the softballers have kept a sure footing, as they are 8-6 in conference play and 10-7 overall. However, the baseball team has stumbled, sitting at 3-7 in conference and 4-8 overall.
Here's a brief recap of each team's early season fortunes.
Softball
Winners of seven of their last 10, the Toros are currently in fourth place in the conference and appear very improved over the squad that finished 11-29 in CCAA play last season. 
In their most recent action, last Friday against Sonoma State, the Toros put 17 runners on base and blasted three home runs in routing the Sea Wolves, 13-3 behind Alyssa Olague's first complete game. The wolves bit back in the second game of the doubleheader, however, scoring all their runs in the last three frames, winning 10-2.
The Toros began conference action in early February, dropping three of four games at UC San Diego, currently ranked No. 23 in the nation. But the largest margin of victory in the series was three runs, and if you eliminate that series, the Toros are 7-3 against conference rivals, with 24 remaining.
Individually, the Toros have been led by senior outfielder Damari Simon, whose four home runs, 16 runs and RBIs, and .769 slugging percentage lead the team. But freshman Amanda Canizales had made a big impact, leading the team in hits (21) and batting average .417.
As a team, the Toros' 80 runs are third in the conference, and part of that is their quickness on the base paths, as they lead the CCAA with 39 stolen bases, only being caught five times. Simon is the chief thief, swiping 10 times in 12 attempts, and Kelcy Telles (7-7)  is one of six Toros who have yet to be thrown out.
On the mound, the Toros have another freshman who has opened eyes, Torrance's Ashley Wies, who has hurled more than half of the team's total innings this season and either leads, or is tied for the lead, in wins, saves, innings pitched and strikeouts. Sophomore Olague leads the team in ERA, at 2.65.
Baseball
The Toro hardballers have yet to get on track in conference play, dropping seven of their first 10 games. However, they showed positive signs last weekend against Cal State San Bernardino, breaking a three-game losing streak by defeating the Coyotes in three games and taking them into extra innings in the other game.
The Toros are led offensively by junior Pierson Loska, a transfer from Cypress College, who leads the Toros in nearly every category, and whose five home runs, 20 RBIs and .870 slugging average lead the conference.
A trouble area for the team thus far is pitching, as their 6.47 team ERA is ninth of 12 conference teams, and they have given up the most hits and second highest batting average to opponents. .314.  Starting pitching, in particular, has been an issue, with only sophomore left-hander Tristan Garnett  pitching more than six innings. However, junior right-hander Connor Dreyer has offered steady relief, gaining three saves in seven appearances and striking out 11 batters in 10 innings while allowing only two earned runs.
The Toros have a four-game series against cross-town rival Cal State LA coming up this weekend with two games at home and two on the road.

csudhbulletin