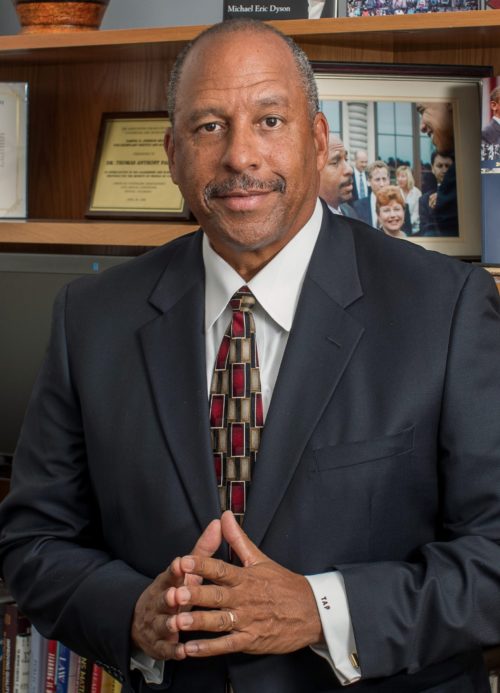 The fall semester will end as planned, and the spring semester is scheduled to begin Jan. 19, but any in-person classes will be exclusively virtual for at least the first two weeks, CSUDH President Thomas A. Parham announced in a campus-wide email 30 minutes ago.
"Completion of the Fall semester will continue as planned unless we receive guidance form state or public health officials to the contrary," Parham said in the email, sent at 4:23 p.m. "At this time, our campus does not anticipate delaying the start of the Spring semester. However, the first two weeks will be exclusively virtual ,and could continue beyond that timeframe if state guidelines and public health advisories direct us to do so."
At last week's CSUDH Academic Senate meeting, Parham told the senate that, following a Dec. 2 advisory by CSUDH Chancellor Timothy P. White to the 23 CSU campuses to consider the move, that he was considering making the first two weeks of any in-class instruction virtual.
Today's email confirms, that; however, Parham also stated that thoughts of delaying the start of the spring semester to Feb. 1, have, for the moment, been set aside.
"In reviewing the advisory…I was contemplating proposing…that we back up the academic calendar until February 1st," Parham wrote in his email. "Upon further reflection however, and consultation with our Provost and Academic Senate Chair, I think we can manage our campus affairs without the challenges of rearranging the academic calendar, assuming that we get the cooperation of our entire university community."
The spring semester is scheduled to begin Jan. 19, and classes to start Jan. 26.
As the pandemic continues to spread at an alarming rate through Southern California, public health experts predict the next eight weeks will "be crucial in our our efforts to prevent the continuing rapid spread of the disease," Parham said in the email.
Eight weeks out from today would be Jan. 29, necessitating the decision tokeep the approximately 8% of classes that will have some meausre of in-person instruction next semester virtual until at least the third week of the semester.
Here is the full text of Parham's email:
Dear Campus Community: 

The ever-changing dynamics of the COVID pandemic continues to challenge our best efforts to arrest the spread of this dreaded disease. While our university community has taken necessary precautions to employ good public health practices across campus, the dynamics that exist outside of our academic boundaries are creating a difficult and more risky environment for us all. 

The Thanksgiving holiday has passed with other ethnic and religious holidays approaching this month, and each of them, in their own tradition, will incite our desires to connect, socialize, and embrace family and friends. And yet, the numbers of those infected with the virus, hospitalized, and succumbing to the disease are forcing local, state, and even federal government agencies to recommend that we suspend the typical rituals associated with our family and cultural traditions. Medical and public health experts are strongly encouraging everyone to avoid contact with those who do not share your domicile. I certainly want to reinforce that directive.

 Initially, when confronted with the COVID-19 crisis, medical and public health officials predicted there may be two waves of high vulnerability for the broader population. Updated data suggests, that while we can expect a second wave in the Winter and Spring months, what we are experiencing now is a third surge in the first wave that is sending incidence and prevalence rates, hospitalizations, and mortality soaring to all-time highs. Public Health officials further advise that the next eight weeks will be crucial in our efforts to prevent the continuing rapid spread of the disease. This guidance necessitates that we consider adjustments to campus plans. 

In reviewing the advisory from the Chancellor's Office (attached), I was contemplating proposing to the Academic Senate, Deans, and Department Chairs that we back up the academic calendar until February 1st. Upon further reflection however, and consultation with our Provost and Academic Senate Chair, I think we can manage our campus affairs without the challenges of rearranging the academic calendar, assuming that we get the cooperation of our entire university community. Consequently, I am asking for the entire campus to cooperate with the following considerations being proposed that will impact campus operations, with the understanding that we are awaiting further guidance: 

*Completion of the Fall semester will continue as planned unless we receive guidance from state or public health officials to the contrary.
*The Spring semester and class instruction at CSUDH are scheduled to begin Tuesday, January 19 and Monday, January 25 respectively. At this time, our campus does not anticipate delaying the start of Spring semester. However, the first two weeks will be exclusively virtual, and could continue beyond that timeframe if state guidelines and public health advisories direct us to do so.

 I realize that additional adjustments may cause further disruption to recently established routines and the inconvenience and disappointment may be considerable. I understand and empathize. Calendars may need to be adjusted, syllabi may need to be modified, faculty and students expecting to be face to face to begin the Spring term may need to pivot to make all interactions virtual for the first two weeks of the semester. Our campus may need to institute more deliberate testing and isolation protocols for anyone (student, faculty, staff, or senior administration) wishing to return to campus after the holidays. Consequently, our EOC and medical personnel will need to rethink how we manage our affairs on campus for those few people who will populate our university grounds, and all of us may need to adapt to testing protocols. We will update you on how this phase of our planning will be operationalized as we continue to consult with the Chancellor's Office, and public health officials. However, what has not changed and will not change is my commitment to keep the health and safety of this campus community in the forefront of our thinking as we lead and manage our university. 

Based on the rapidly changing and ever evolving effects of this pandemic on our campus operations, it is imperative that we all remain vigilant. As additional information becomes available, we will update the campus via email and website messaging. Thank you all for your understanding, compassion, and sensitivity as we continue to adapt to the changing dynamics of this disease. TOROS TOGETHER! 

Sincerely, Thomas A. Parham, Ph.D
President  
csudhbulletin