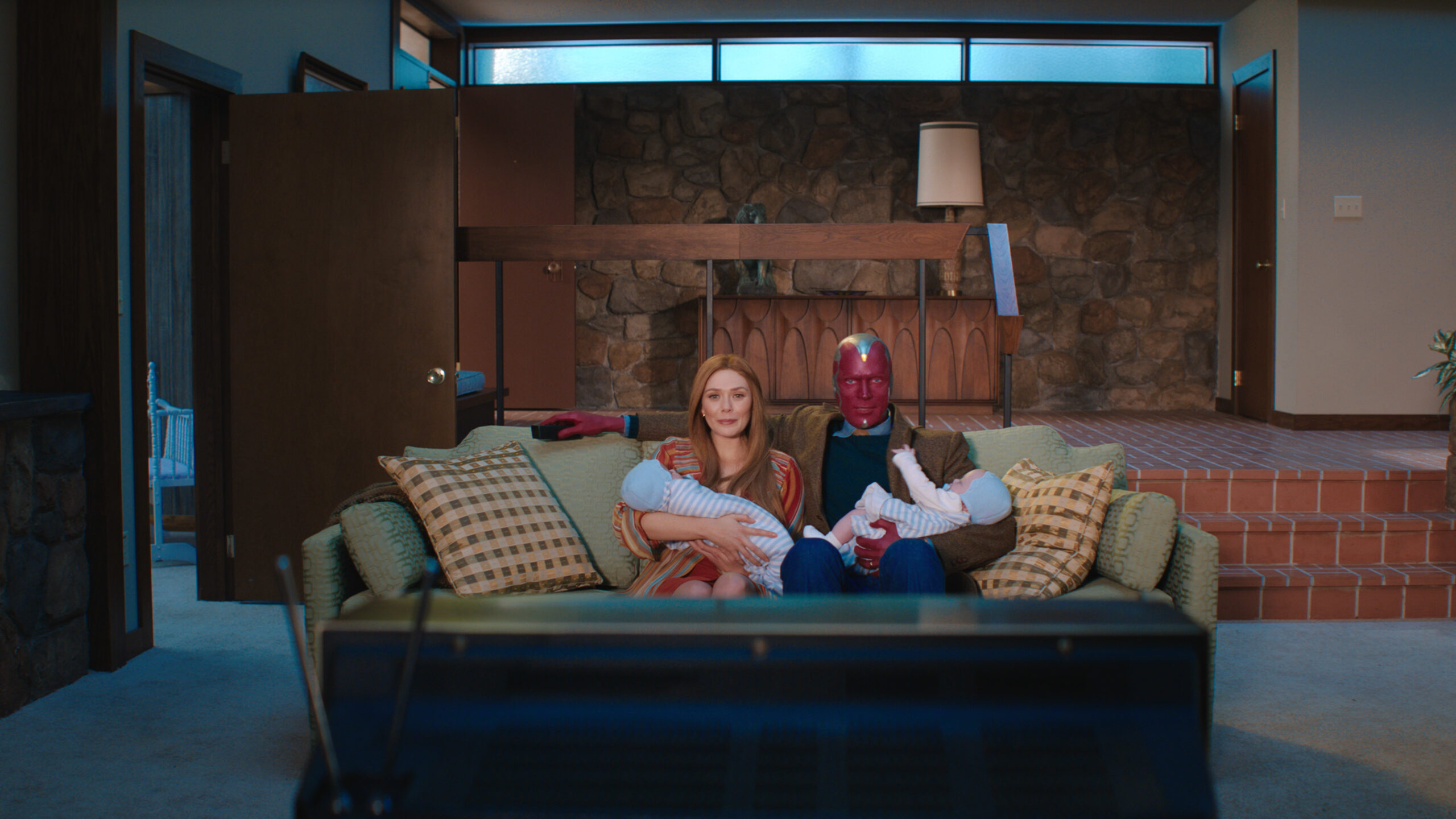 Elizabeth Olson as Wanda Maximoff and Paul Bettany as Vision in Marvel Studios' "Wandavision" exclusively on Disney+ . Photo courtesy of Marvel Studios.
By Carlos Martinez, Web Editor
If there's one positive thing we can find in a now 10-month pandemic, it's the extra free time we now have to catch up on movies and TV shows in our backlogged Netflix accounts. 
Before the pandemic, I never had any free time to catch up on "The Chilling Adventures of Sabrina" or "One Day at a Time." Hell, I hadn't seen Pixar's "Coco" until the pandemic started.
As the pandemic lingers on, the four streaming horsemen; Disney Plus, Netflix, HBO, and Amazon are marching off to battle in a quest to conquer our living rooms. TV has always found a way to reinvent itself since the days of black and white to the bursting, vibrant age of technicolor.
We've come a long way since the advent of TiVo and Video-on-Demand. As movie theaters remain closed across the country, the pandemic has placed a lot of pressure on the TV industry to pick up the slack. Thus ushering us into a new era of TV, perhaps in a Roku device far, far away (from your recliner), the Streaming Wars was born.
And with so much flooding the streaming market now, the longer we stay in the pandemic the higher the notch goes. So, I ask this simple question—should we cling onto them from another virtual year? And if so, which ones are worth keeping?
The question gets more existential as unemployment and streaming prices went up. For example, Netflix raised its membership prices from $12.99 to $13.99 back in October, which at a yearly rate is almost the price of a subscription of basic cable TV.
Though our skinny pockets felt the pinch of a higher tier price, Netflix pulled a Judas and distanced themselves away from the other disciples to deliver the greatest gift to their loyal worshippers: one new movie every single week.
Although Netflix released more content in 2019, many rarely had a cast full of A-listers. What Netflix is trying to do this year is including familiar names and faces while churning out globs of content to the small screen.
Meanwhile, newcomer HBO Max had announced all of their big blockbuster movies will premiere on their platform for 30 days during their theatrical run as a way to gain more subscriptions.
After seeing their "shoulda, woulda, coulda" summer tentpole "Tenet" become a box-office flopbuster due to theatres being closed in the height of the pandemic, Warner Bros. experimented with the idea of a simultaneous release on "Wonder Woman 1984" that was originally set to be released during the summer.
"Wonder Woman 1984" was not as amazing as its predecessor, but it brought record high subscriptions to HBO Max when compared to other streaming services in a three-day period.
Although HBO Max broke the entertainment industry's rule of "theaters before streamers" and having directors and theater owners throw shade at them, they are managing to pull an impressive answer to why folks should stick around.
Like HBO Max, Disney is experimenting with the "same-day" tactic on their upcoming film "Raya and the Last Dragon" as they did in the past with "Soul," but with the paywall incentive they did with the 2020 live-action "Mulan" adaptation.
Disney Plus is the most interesting one of the bunch as they are the outlier of the Streaming Wars.
Relying on flagship IPs, Disney manages to attract attention through the likes of putting "The Mandalorian" and "Wandavision," a first of their kind respectively, as high-profile shows that boosted their subscriptions when they first launched.
Following an old-school weekly new episode approach instead of dumping an entire season at once, Disney Plus holds their cards close to their chests and strategically maps release dates on upcoming shows.
So, Marvel fans won't drop their subscriptions to Disney Plus once "Wandavision" ends as the next MCU show, "The Falcon and Winter Soldier" will premiere about two weeks after.
As we steer away from a miserable year and towards a hopefully a good one, the Streaming Wars have only just begun.
csudhbulletin