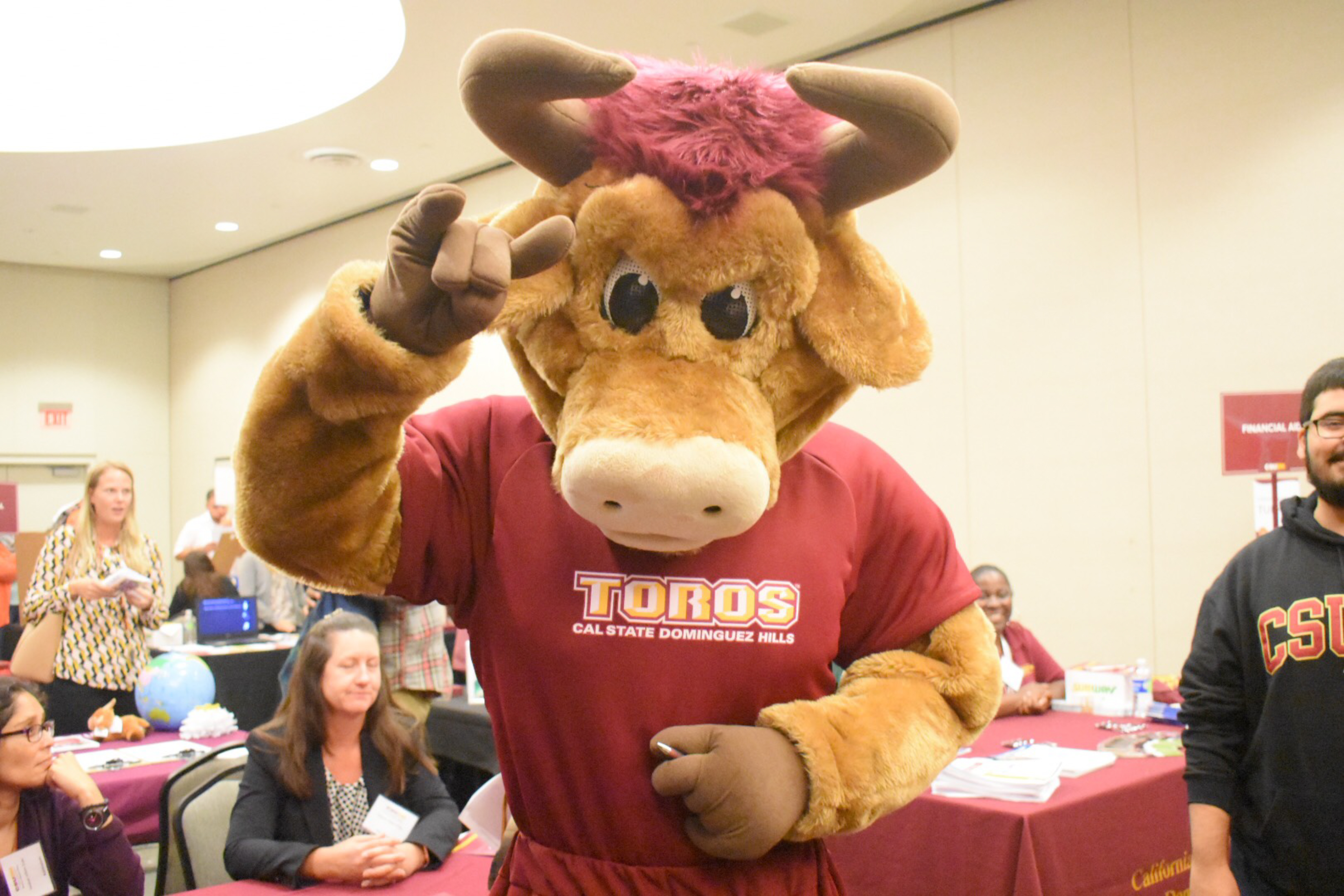 By LaQuanda McNeil
Staff Writer
The Student Affairs Expo Nov. 15 provided students with an overview of the services and programs offered by over 25 departments at Cal State Dominguez Hills.
Admissions and Records, the Rose Black Resource Center, the Career Center, Financial Aid, Male Success Alliance, Veteran Resource Center, University Outreach and School Relations were among the participating departments.
"The Student Affairs Expo helps students who are not aware of services available to them on campus," said Austin Seang, a junior. "I was not aware that we had so many different services here at CSUDH."
The Associated Students Inc. also participated. ASI offers unlimited discount cards to students that can be used at different restaurants and stores located near campus. ASI is looking to add more vendors to the discount cards in the near future.
"ASI hosts a raffle every semester where students who participate in 10 or more ASI events throughout the semester can enter a raffle to win a $100 gift card," said Stephen Janes, an ASI representative.
ASI hosts countless events, including fitness classes, Spring Fling and Toro Tuesday. Students can stop by the ASI office in the Loker Student Union or call (310) 243-3686 for more information on upcoming events and opportunities.
Thinking about studying abroad? The deadline to apply for the CSU International program is Feb. 1.
Racheal Wangui, study abroad coordinator, said the program has the same tuition costs as one semester at CSUDH and allows students to take their financial aid with them to cover living costs and materials.
Students can order their International Student Identification Card by visiting www.myisic.com/orders/CaliforniaSateUniversityDominquezHills. For more information about the program students can email rwangui@csudh.edu or visit www.csudh.edu/studyabroad.
Are you an international or domestic student who feels isolated and is looking to meet people? The American Language and Culture Program host events throughout the semester to prevent international and domestic students from feeling isolated.
ALCP will host its last event of 2017, a Holiday Celebration, from 11:30 a.m. to 1 p.m. Dec. 6. When traveling to events, students are responsible for their own entrance fees, however transportation is provided by a CSUDH van and chaperon.
ALCP also offers tutoring in SAC 2126 for English as second language at scheduled times.
For more information on upcoming events, tutoring and ALCP programs, call (310) 243-3830 or email alcp@csudh.edu.
csudhbulletin