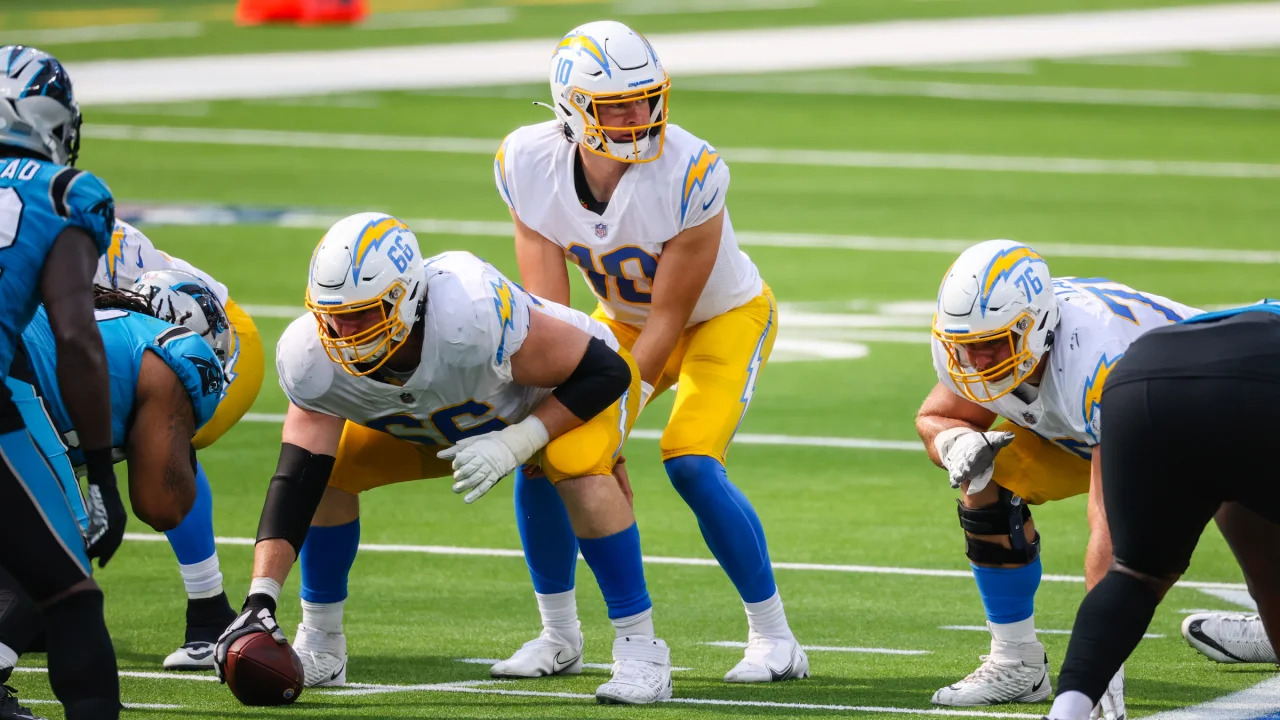 Justin Herbert has thrown for 300+ passing yards in each of his two starts for the Chargers. Photo by Los Angeles Chargers
By Jeremy Gonzalez, Sports Editor
Inglewood, Calif.
The Los Angeles Chargers will have to wait a couple more weeks to grab their first win inside SoFi Stadium after losing their Week 3 matchup 21-16 to the Carolina Panthers.
Los Angeles had a chance to win the game at the end. The Bolts forced Carolina to punt and got the ball on their own 1-yard line with 1:43 left to play. They drove down to the Carolina 28 when they attempted one final play.
The game ended on a final lateral trick play from wide receiver Keenan Allen to running back Austin Ekeler, but the lateral from Allen was off and the ball fumbled away as time expired. The play would have produced a game-winning touchdown as Ekeler had no defenders in front of him.
"I'm disappointed in the loss," said Bolts quarterback Justin Herbert. "Those are the games that you'd love to win, but turn the ball over three times, you can't expect to win."
Herbert was 35 of 49 for 330 yards and a touchdown, but also had a fumble and an interception. His main target in the Week 3 matchup was Allen as the duo connected on 13 passes for 136 yards and a touchdown. Ekeler finished with 159 scrimmage yards (59 rushing and 80 receiving) plus a touchdown.
Carolina was missing star running back Christian McCaffrey, but received big showings from their defense and special teams to give head coach Matt Rhule his first NFL win.
Panthers kicker Joey Slye kicked five field goals while the defense forced three Los Angeles turnovers on the day.
The Chargers took an early 7-6 lead in the second quarter when Ekeler ran into the endzone from the right side from 12 yards out, but Carolina regained the lead on the next possession when Slye connected on a 30-yard field goal.
The Panthers only touchdown came after a Chargers turnover. Linebacker Shaq Thompson recovered Joshua Kelley's fumble to give Carolina possession at their own 43. The team drove down the field, setting up quarterback Teddy Bridgewater to toss a screen pass to running back Mike Davis that went for 13 yards and into the end zone. Slye's extra point attempt was blocked which kept the Carolina lead at 15-7.
The scoreline looked like it would remain the same at halftime before cornerback Donte Jackson intercepted Herbert's pass that was intended for Allen and returned it 66 yards to the Chargers 8. Slye hit another field goal two plays later from 22 yards out to make it 18-7.
The teams exchanged field goals in the second half before Herbert brought the Chargers within five points with a 14-yard dart to Allen with 4:39 left in the game. The 2-point attempt was no good, keeping the score 21-16.
Los Angeles has lost at home in back-to-back weeks, bringing its record to 1-2 while sitting in third place in the AFC West.
The loss was a very familiar sight for Los Angeles fans, seeing the Chargers come close to coming away with a win, but fail in the final seconds. The Bolts suffered 11 losses last season. Nine of those were one-score games and both losses this season have been decided by fewer than seven points each.
IN THE RECORD BOOK
Allen moved into third on the Chargers all-time receptions leaderboard, passing Kellen Winslow's 541. Allen has 548 receptions in his eighth season. Hall of Famer Charlie Joiner is second with 586 and Antonio Gates leads the way with 955 catches in 16 seasons. Allen also has 24, 100-yard games, tying Winslow for second-most in franchise history.
INJURIES
Los Angeles was hit with the injury bug during the second half as cornerback Chris Harris (ankle), offensive tackle Bryan Bulaga (back) and wide receiver Mike Williams (hamstring) all suffered injuries in the second half and did not return.
UP NEXT
Chargers: The Bolts will travel to Florida where they will face Tom Brady and the Tampa Bay Buccaneers (2-1) in Week 4. Brady is coming off a three-touchdown performance against the Denver Broncos and led the Bucs to a 28-10 road victory. 
Panthers: Carolina heads back home to host the Arizona Cardinals (2-1) in Week 4. The Cards suffered a 26-23 home defeat to the Detroit Lions in Week 3 despite a 10 catch, 137-yard performance from wide receiver DeAndre Hopkins.
csudhbulletin