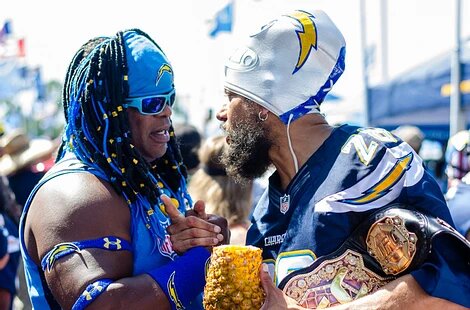 Los Angeles fans will be hoping the Chargers can return from Mile High with a win to remain in the wild card hunt. Photo by Glenn Marshall.
---
By Jeremy Gonzalez, Sports Editor
Los Angeles Chargers vs. Denver Broncos. 1:05 p.m, CBS.
Empower Field at Mile High Stadium. Denver, Colo.
Chargers record: 2-4, 3rd in AFC West. NFL Power Ranking: 17
Los Angeles returned to winning ways as they defeated the Jacksonville Jaguars 39-29 at home. Quarterback Justin Herbert set career highs in passing yards (347) and rushing yards (66) in his first NFL win. Herbert was named NFL Offensive Rookie of the Month for October.
Broncos record: 2-4, 4th in AFC West. NFL Week 8 Power Ranking: 23
Denver is coming off a 43-16 blowout loss courtesy of the Kansas City Chiefs. The Broncos turned the ball over four times and lost running back Phillip Lindsay to a concussion in the divisional defeat.
The Los Angeles Chargers and Denver Broncos both enter their Week 8 matchup needing a victory to remain relevant in the wild card race. The intensity of the AFC West rivalry will be evident as the two teams face off for the first time this season.
In their last meeting in Denver, the Broncos defeated the Chargers 23-20 on Dec. 1. And that was when Phillip Rivers was still in a Bolts uniform with Melvin Gordon alongside him, leading the rushing attack. Now Rivers is under center in Indianapolis and Gordon dons the orange uniform of Denver.
Gordon signed a two-year, $16 million deal this past offseason with the Broncos after playing the first five years of his NFL career in a Chargers uniform. Gordon facing his former team adds an extra layer of spice onto the already feisty rivalry between the two teams.
"I'm just going to take it like I do every week," Gordon said leading up to the game. "Obviously it's going to be cool to go up against some of the guys that I built a great relationship with over the years. But you know it's no different than any other team."
While Gordon might be downplaying the matchup, the game still offers plenty to look forward to. Here's how the two quarterbacks stack up, along with other things to look out for in Sunday's showdown between the Broncos and Chargers:
IN THE POCKET
Chargers QB Justin Herbert and Broncos QB Drew Lock have one thing in common when it comes to their game. Both love to throw the ball deep. It's worked out well for the Chargers and their rookie sensation but not so much for the Broncos and their second-year QB.
Herbert is tied for the NFL lead in touchdown passes over 20 yards (from the line of scrimmage) with six. Half of those came last week against Jacksonville. Overall, he has connected on 9 of 18 deep throws for 411 yards and six touchdowns with one interception.
As for Lock, he hasn't nearly been as productive as Herbert on the long ball. Lock is just 4 for 19 on deep balls this season after going 3 for 11 last season in five starts. Lock's first career TD was a 26-yarder, but has failed to register another deep TD ever since.
Lock has thrown one touchdown pass to four interceptions in his four starts for the Broncos this season. He's only completed three of those starts because he injured his throwing shoulder during the team's Week 2 loss to the Pittsburgh Steelers. In his three complete games, Lock is averaging just 219 passing yards.
Meanwhile, Herbert is averaging 308.4 passing yards per game and leads the AFC. Herbert has thrown 12 touchdowns to just three interceptions. In his last three starts, Herbert has thrown 10 TDs to just one interception.
The two quarterbacks are trending in opposite directions ahead of Sunday. Herbert will look to continue his hot streak while Lock will be attempting to break his trend for a more positive one.
RUNNING STRUGGLES
The Bolts will once again be without running back Austin Ekeler this week, meaning the running game could struggle like it has the past couple of weeks. In the first three games of the season, Chargers running backs were averaging 4.4 yards per carry. That has dropped to 2.9 yards per carry in the last three games.
Justin Jackson and rookie Joshua Kelley have been splitting the carries in the backfield and will look to establish a strong run game early against Denver to relieve some pressure off Herbert. That will be easier said than done as Denver has the 10th best run defense in the league.
COVID CONCERNS
Both teams are dealing with a player who tested positive for COVID-19. Los Angeles placed guard Ryan Groy on the league's COVID-19 reserve list on Thursday and canceled practice. Denver canceled practice on Friday after learning starting right guard Graham Glasgow tested positive for the coronavirus.
Denver's offensive line coach Mike Munchak has been out since Wednesday due to COVID-19 concerns but the Broncos did not say if he or someone close to him was infected.
VEGAS LINE
Opening: Los Angeles is listed as the favorite. Line: -3.0. Total: 45.0.
Saturday night: Los Angeles is listed as the favorite. Line: -3.0. Total: 44.5.
The Lightning Rod pick: The Chargers have lost seven straight AFC West matchups, but that will change on Sunday. Herbert's hot play will break the division losing streak and sink the Broncos. He will connect with Keenan Allen on two scores while throwing for 320 yards and no picks. Lock and the Broncos will continue to struggle in the long ball as Lock throws another two interceptions in Sunday's game. The current trends both teams are on will uphold as Los Angeles routs Denver.
Chargers 28, Broncos 14
csudhbulletin