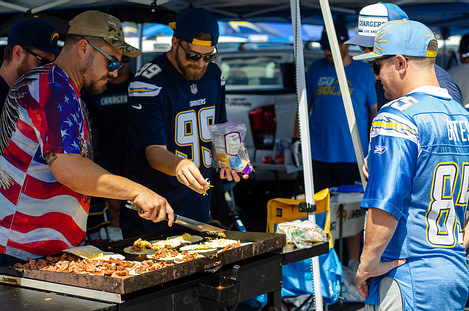 Chargers fans will hope the team can get back on track in next week's game against the New York Jets. Photo by Glenn Marshall.
---
By Jeremy Gonzalez, Sports Editor
The surprising and surging Miami Dolphins enjoyed their fifth consecutive victory, defeating the Los Angeles Chargers 29-21 on Sunday.
Dolphins quarterback Tua Tagovailoa got some help from a less-known rookie that made his day easier while Bolts quarterback Justin Herbert struggled against a blitz-happy defense all day.
Running back Salvon Ahmed made his first career start for Miami filling in for the other two injured running backs and made the most of his opportunity, running for 85 yards on 21 carries to go along with a 1-yard touchdown run.
The Chargers stumbled right out of the gate due to two costly mistakes on special teams that allowed Miami to take a 14-0 lead. Chargers punter Ty Long bobbled the snap and had his kick blocked to set up Ahmed's short run for the first touchdown. Then Quenton Meeks was offside on a field goal attempt, giving the Dolphins a fresh set of downs that allowed them to drive to the goal line before Tagovailoa found Jakeem Grant for the second score.
Herbert managed to punch it in himself from one yard out for a rushing touchdown to get the Chargers on the board, but a Dolphins field goal by Jason Sanders gave Miami a 17-7 lead going into halftime.
Los Angeles managed to bring the score within three when Herbert found tight end Hunter Henry in the back of the end zone after he rolled to his right and waited for the gap to open up in the coverage, but this would be the closest the Chargers would come to Miami.
Herbert threw a costly interception at the start of the fourth quarter when Los Angeles was driving downfield only down by six points. Miami cornerback Xavien Howard had jumped the route and picked off Herbert, giving Miami great field goal position. Two more field goals by Miami kicker Jason Sanders plus another Tagovailoa touchdown pass all but sealed the win for the Dolphins.
Los Angeles managed to put together a final drive that ended with Herbert throwing a 13-yard touchdown pass to wide receiver Keenan Allen, but the garbage time touchdown only served as consolation.
Herbert was outplayed in the battle of the high draft picks by Tagovailoa, who finished with 169 passing yards, two touchdown passes, no interceptions, a 106.9 rating and improved to 3-0 since taking over for Ryan Fitzpatrick. Herbert had another multi-touchdown game, but struggled against Miami's blitzing defense, only passing for 187 yards and one interception, giving him a 86.3 rating
UPDATE IN THE STANDINGS

The Dolphins (6-3) have their best nine-game record since 2001, and under second-year head coach Brian Flores they've won more games than in all of 2019. Miami moves into second place in the AFC East, just a half game back from the Buffalo Bills. The Dolphins currently sit as the second AFC wild card team, but are tied with four other AFC teams with a 6-3 record.
Los Angeles (2-7) dropped their third game in a row and have their worst record at this point in a season since 2015. The Chargers remain at the bottom of the AFC West, while the Denver Broncos (3-6) sits in third, the Las Vegas Raiders (6-3) are separating from the pack in second, and the Kansas City Chiefs (8-1) maintain their grip on first place.

UP NEXT
Chargers: Los Angeles returns home to SoFi Stadium to face the winless New York Jets (0-9). The Jets had a bye week in Week 10.
Dolphins: Miami will be facing off against another AFC West foe, the Denver Broncos (3-6). Denver is coming off a 37-12 demolition at the hands of the Las Vegas Raiders. The Las Vegas running game powered them to victory, accounting for over 200 rushing yards and four touchdowns.
csudhbulletin