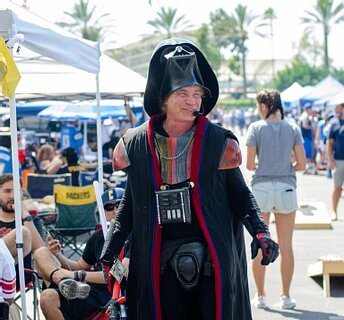 The dark side is strong on both sidelines this week as the Chargers and Jaguars are on four and five-game losing streaks, respectively. Photo by Glenn Marshall.
---
By Jeremy Gonzalez, Sports Editor
Jacksonville Jaguars vs. Los Angeles Chargers. 1:25 p.m. CBS.
SoFi Stadium. Inglewood, Calif.
Jaguars record: 1-5. 4th in AFC South. NFL Week 7 Power Ranking: 31
Jacksonville has been in a slump after winning their home opener against the Indianapolis Colts. Last week's 34-16 home defeat at the hands of Matthew Stafford, D'Andre Swift and the Detroit Lions was the Jags' fifth straight loss.
Chargers record: 1-4. 4th in AFC West. NFL Week 7 Power Ranking: 18
Los Angeles had a much needed bye week during Week 6. The Bolts are on a four-game losing streak and have been plagued by injuries to key starters on the offense. Their last game in Week 5 ended in a 30-27 overtime defeat to the New Orleans Saints.
The Jacksonville Jaguars and the Los Angeles Chargers both come into their Week 7 matchup in their own slumps, hoping to break out of the skids that have haunted them through the spooky month of October.
The Jags have given up at least 30 points in each of their five losses this season and are 0-3 on the road against opponents. Meanwhile, Los Angeles has had every loss from their four-game losing streak decided by seven points or less. Jaguars quarterback Gardner Minshew and Chargers quarterback Justin Herbert are both looking to grab wins for their team since the opening week of the season.
"It's easy to get frustrated," Minshew said in a press conference earlier this week. "It's sometimes hard to find the bright side of things, but that's what we have to do and I think that's what we are doing right now."
The Chargers have been playing well for most of the games this season but cannot close them out, as evident by the one-score games. One of these AFC bottom feeders will emerge as the winner and could get the spark they need to get back on track. Or this could be a meaningless game that yields a short-term positive result but no long-term impact on their seasons.
Here's a breakdown of the two quarterbacks who are somewhat familiar with each other and other things to watch out for ahead of the Sunday afternoon clash between the Jaguars and Chargers:
IN THE POCKET
Minshew and Herbert have faced each other before, just not in the NFL. Herbert was an Oregon Duck and Minshew was a Washington State Cougar when the two quarterbacks faced each other in a Pac-12 matchup in 2018. Herbert said his Ducks only got to play them once and remembers they got beat badly by WSU.
"He's been really fun to watch and just the way he's handled everything," Herbert said of Minshew. "He's a top-notch guy and has had a lot of success on the field. I'm really glad to see a Pac-12 guy like that."
Minshew was drafted in the sixth round of the 2019 NFL Draft by Jacksonville and played in 14 games as a rookie, starting in 12 of those last season. He was able to produce six wins behind his 21 touchdown passes while throwing only six interceptions, taking over Jacksonville with "Minshew Mania." There were some positives to take from last season, but replicating that success has been difficult for the Jags this season.
Minshew has completed 25 passes or more in five straight games, but has also thrown five interceptions. Jacksonville has constantly had to play from behind during their losing streak as the team has been outscored 82-40 during the first half.
Herbert, the sixth overall pick of this year's draft, has exceeded all expectations. He holds a 68.8% completion rate with a 3:1 touchdown-to-interception ratio despite not having a win under his belt.
The Bolts have not been plagued with slow starts. Their struggle has been being able to maintain a lead until the clock shows zeroes. Herbert has done well to put the Chargers up but the team has blown three double-digit leads in the last four games.
"I think finishing in the second half is going to be huge for us," Herbert said. "Putting together a full game is what's going to separate us."
GETTING THE RUN GAME GOING
Austin Ekeler was placed on injured reserve with a hamstring injury, so the bulk of the running game has been split between rookie Joshua Kelley and Justin Jackson. The Chargers will need to get more out of both of them to prevent teams from applying pressure to Herbert. Los Angeles has averaged just 2.9 yards per carry the past two games and had eight carries go for no gain or negative yards. Through their first three games, the Bolts were averaging 4.3 yards per carry. If they want a chance at breaking their losing streak, the Bolts need to balance out their offense instead of asking Herbert to perform magic week in and week out.
STAYING IN FRONT
As mentioned earlier, the Chargers have trouble maintaining big leads, like when they blew 17-point second quarter leads in back-to-back weeks the last two games. Defensive coordinator Gus Bradley is known to have various blitzing packages and play calls but he might want to consider simplifying the game plan to see better execution from his defense, especially late in the games. One key factor for the Bolts defense will be to get pressure on Minshew early, which is something they haven't done recently. In last Monday's overtime defeat to New Orleans, the Chargers defense only had five pressures on Drew Brees.
WEST COAST TROUBLE
Aside from a victory in the final Oakland Raiders home game at the historic Coliseum, the Jaguars have had very little luck winning on the West Coast. Jacksonville is 3-12 when they play on the opposite coast, with all three wins coming in Oakland. They're 0-2 in San Francisco, 0-3 in Seattle and 0-4 in San Diego. If the trend continues, their first trip to Los Angeles will end in a Chargers victory like the previous four matchups did in San Diego.
VEGAS LINE
Opening: Los Angeles is listed as the favorite. Line: -8.5. Total: 49.0.
Saturday night: Los Angeles is listed as the favorite. Line: -7.5. Total: 49.0.
Lightning Rod pick: Herbert looks more comfortable in the offense with every drive he leads. The Jaguars are near the bottom of every major defensive statistic. This is a game made for the Chargers to win. Herbert will continue his hot performance by going over 300 passing yards once again while throwing three TDs. The running game will find its stride, rushing for over 100 yards and one TD to help ease the pressure off Herbert. The Chargers defense will look like a top five unit against an inferior Jags offense that will struggle mightily throughout the game. The West Coast woes will continue for Jacksonville.
Chargers 31, Jaguars 17.
csudhbulletin