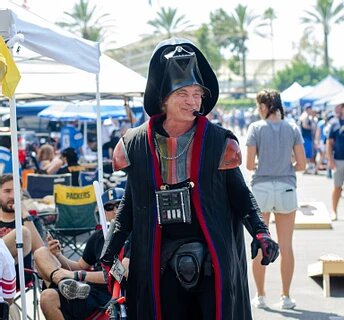 The dark side looms over the Chargers as they drop their fourth straight game by seven points or less. Photo by Glenn Marshall.
---
By Jeremy Gonzalez, Sports Editor
New Orleans, La.
Drew Brees' sips from the fountain of youth continue to pay off as he keeps coming through for the Saints in his 20th season, while the Los Angeles Chargers continue to squander the promising play of their rookie quarterback Justin Herbert.
Brees orchestrated a final drive in overtime to set up kicker Wil Lutz for the go-ahead 36-yard field goal and the Saints defense stopped Bolts receiver Mike Williams just short on fourth down to preserve the 30-27 victory over the Chargers (1-4) on Monday night.
Chargers kicker Michael Badgley, who had been perfect in his career in point-after kicks, missed his first PAT wide right in the first quarter. He had a chance to redeem himself after Williams' leaping catch between two defenders set the Chargers up on the Saints' 32-yard line in the final seconds. But Badgley's 50-yard attempt as time expired bounced off the right upright, sending the game into overtime.
Herbert's fourth touchdown pass of the game, a 64-yard strike to Williams, had put Los Angeles back in front before the Saints (3-2) tied the game on Taysom Hill's 9-yard run with 52 seconds left in regulation.
STATS, FACTS AND FIGURES
Herbert, who was officially named the starter for the remainder of the season this past week, continues to show his promise as a franchise quarterback. The rookie finished 20 of 34 for 264 yards without a turnover. Five of his completions went to Williams for 109 yards and two TDs. Herbert finished with four passing TDs on the day, becoming the first rookie to throw 4 TD passes on Monday Night Football.
Herbert's first touchdown came when he escaped pressure and fired a 17-yard dart down the sideline to Keenan Allen to go up 6-0 in the first quarter. Herbert then found Jaylen Guyton on a 49-yard completion in the second quarter that set up a 4-yard score to Williams on the very next play to go up 13-3.
Nasir Adderley intercepted Brees in the second quarter, returning it to the Saints 1-yard line and setting up Herbert's 3-yard score to tight end Hunter Henry, which made it 20-3 at the time.
Brees made history in his own way on Monday night, becoming the oldest quarterback with more than 32 completions in an NFL game, finishing 33 of 47 for 325 yards and a touchdown pass to tight end Jared Cook. 12 of those completions went to Emmanuel Sanders for 122 yards. Alvin Kamara totaled 119 yards from scrimmage, highlighted by a juggling catch down the sideline to set up Hill's game-tying TD.
Brees' dive over a pile of linemen at the goal line made it 20-10 with 14 seconds left in the first half. Lutz, who nailed a 48-yard field goal in the first half, drilled a 53-yarder that pulled New Orleans within one score in the third quarter. Then Brees found Cook open on third-and-long to tie it 20-20 early in the fourth. Brees now owns a 4-0 record over the Chargers, the team that drafted him in 2001 and released him in 2006.
The Chargers have suffered their fourth straight loss by a touchdown or less, and the second in overtime this season. Los Angeles has also blown a 17-point lead for a second straight game, becoming the first team since the 2003 Atlanta Falcons to lose 17-point leads in back-to-back weeks. Both of these losses have come against NFC South teams with a quarterback older than 40.
In Week 4, it was Tampa Bay's Tom Brady, the six-time Super Bowl winner, that led the comeback. This week, it was the NFL's all-time leader in completions, yards and touchdowns that sunk the Chargers.
In the postgame press conference, Herbert explained what the team needs to do in order to get back in the win column.
"It's going to take more than what we're doing right now," Herbert said. "I know if we keep working hard and do the right things, good things will happen. Losing's tough, it always is. But I know we're going to learn from it and I know that we're going to stick together through this."
INJURIES
As one receiver got healthy, another one went down with an injury. Keenan Allen left the game with a back injury in the second quarter and did not return. Linebacker Uchenna Nwosu was helped off with a leg injury early in the fourth quarter.
These injuries came on top of the previous injuries that sidelined several Chargers starters, including two offensive linemen on the right side and star running back Austin Ekeler.
UP NEXT
Chargers: Los Angeles enters their bye week before hosting the Jacksonville Jaguars (1-4) on Oct. 25. The Jags are currently at the bottom of the AFC South, having lost four straight games (sound familiar?). In Week 5, the Jags faced a winless Houston Texans team and were defeated 30-14.
Saints: New Orleans also enters their bye week before a Week 7 home date with the Carolina Panthers (3-2) on Oct. 25. The Panthers are coming off a Week 5 23-16 victory over the Atlanta Falcons. Carolina, New Orleans and Tampa Bay all have a 3-2 record going into Week 6, but the Saints hold first place because of the head-to-head victory over the Bucs.
csudhbulletin