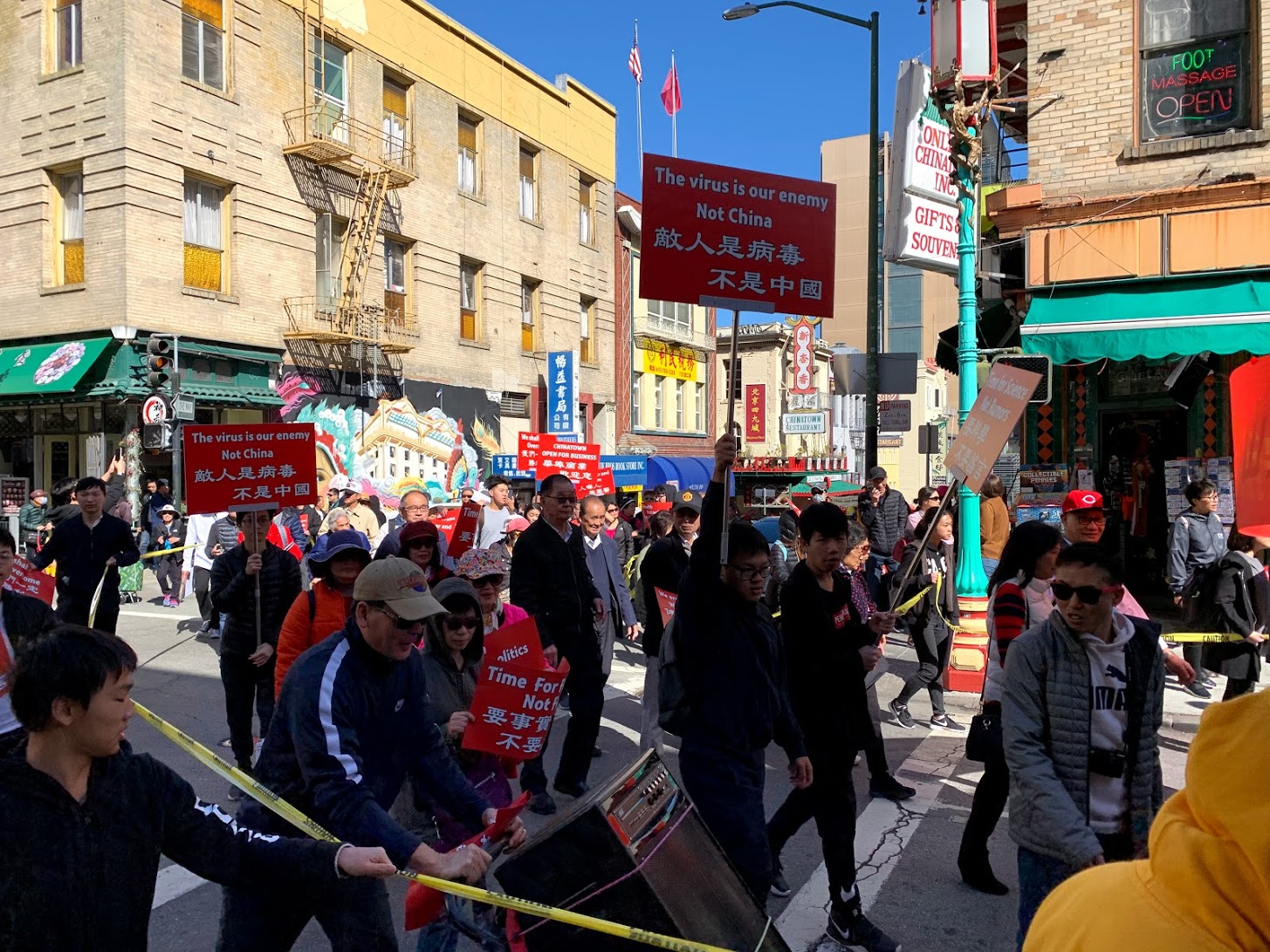 An Anti-racism protest in San Francisco shows the frustration and fear of the Asian American community. Photo by Nova Blanco-Rico.
By Jasmine Nguyen, Senior Editor
I miss the days where I could be writing about the overly done nerd stereotypes of the Asian American community, but unfortunately, I'm worried about my grandfather getting assaulted while grabbing milk from the local grocery store.
As President Thomas A. Parham's email yesterday to California State University Dominguez Hills, us, there has been a plague of Anti-Asian crimes.
In the last year alone, in a rather terrifying trend, there has been an increased amount of violence and bigotry towards the Asian American and Pacific Islander community.
Last year I wrote about the first instances of anti-Asian sentiment that occurred because of COVID-19, and as the pandemic continued, the racism towards my community increased as well.
What may have started with unfunny tweets about how Asians were to blame for the start of COVID has now escalated into multiple Asian Americas becoming victims of violent hate crimes across the country, with the elders of the community targeted the most.
The Stop AAPI Hate, an online resource created last March by The Asian Pacific Policy and Planning Council, has recorded nearly 3,000 incidents of anti-Asian violence across the U.S.
In Ladera Ranch, an Asian American family was harassed constantly with racist remarks and had rocks thrown at their home.
Last month in San Francisco, an 84-year old Thai man named Vicha Rantanpakdee died as a result of being pushed into the ground on one of his daily walks.
Another example is when a Buddist temple in Little Tokyo, Los Angeles was set on fire and vandalized.
On Tuesday, Parham wrote in an email to campus against the hate towards the AAPI community.
"Whether this anti-Asian sentiment is expressed via racial slurs shouted from a passing car, dehumanizing words painted on a wall, or actual physical assaults and violence, it is unacceptable and reprehensible," Parham said.
For me, these anti-Asian sentiments are not just headlines or sections of the news. As an Asian American, I've become exhausted by the bigotry and racism my family has experienced in this year alone.
My father was told to "go back to his country" while on the way to work in Huntington Beach. My dad has never stepped foot out of the United States in his life, so how exactly was he supposed to leave here?
My mother, who owns a restaurant in Louisiana, received a call from someone saying that setting a glass barrier and enforcing social distancing was useless since Asian people were the ones who brought the pandemic to the U.S in the first place.
In the last year, I've had a sinking fear that what if my grandparents are the next victim of a hate crime. What if they're the next viral headline on Twitter?
Unfortunately, the rise of racism and bigotry towards the AAPI community is nothing new. Yellow Peril has been a part of the U.S since the first Asian immigrants stepped on the land of the free. We're seen as foreigners who carry disease and filth and while it may come and go, this fear never goes away.
Look at the Chinese Exclusion Act or the Japanese Internment camps of WWII. The Asian community has been used as scapegoats again and again, but we can't let this happen again.
In his email, President Parham wrote for the campus to "confront those who would denigrate our Asian brothers and sisters, and let them know that ignorance, intolerance, and incivility have no place in a civil society, and will not be tolerated."
We must learn from our mistakes. Call out to the bigotry you see, stand with the Asian American and Pacific Islander community.
You can help by speaking about these issues or donating to these various organizations that help fight against AAPI hate crimes.
Support the AAPI Community Fund
csudhbulletin