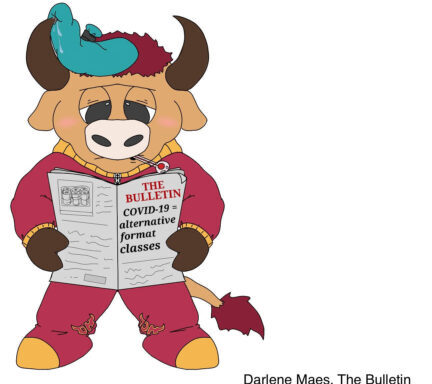 Welcome to a special feature in this special e-edition of The Bulletin, in the most unusual week in the history of this campus: the first where we transition into online and other alternative teaching for the rest of the semester.
Think of this as a community bulletin board, letters to the editor, an open forum, or a place where you can perhaps process some of your thoughts and emotions about these last two hectic weeks and the aforementioned transition.
On this page are thoughts from some of our staff as well as a few students they know who they asked to contribute.
We'd like to tender an official invite to not just students but anyone involved on this campus, including faculty, staff, administrators, anyone, to contribute their thoughts.
We will run them, as well as the full versions of the excerpts below, on our website, csudhbulletin.com
They can be serious or somber, angry or funny, confused or questioning. All we want is for  you to speak your truth, whatever that looks like.
We will update this on our website throughout the semester.
We do ask that you keep your submissions to less than 175 words, including your first and last name, class year and major (or job title or department where you work). And we do reserve the right to edit for issues of length, libel, clarity and punctuation/grammar clean-up. Please email us at bulletin@csudh.edu or via our social media handles at @DHBulletin on Instagram and Twitter, and facebook.com/DHbulletin.
The transition from in-person lectures to virtual learning has been a major adjustment. I would like to thank all the professors and faculty at Dominguez Hill who have taken the pressure and privilege to still deliver great lectures.I truly believe DH has taken the right precaution necessary to keep the community safe and us. 

Gopi Patel, Cellular and Molecular Biology, Senior
Being stuck in one spot for long was one thing that I always had trouble with so therefore the quarantine isn't sitting too well for me. I have no problems with staying home at times, but for multiple days is something that I'm finding hard to do. We're forced to plan out our days once at a time because that's how foreign the outcome has become. It's gotten really scary and almost feels unreal to me. I personally can't wait for the day we look back at this and say "Hey remember when the coronavirus almost took out the entire world? Yeah, that was weird." 

Angelica Mozol, "The Bulletin's" Web Editor
Honestly, I don't mind it closing. It was just the fact that they kept us in the dark about it for a while, like they could have given us a heads up before. Or if they were gonna close it, they should have told  professors to not schedule any big due dates the week of closure. Because when they did that it was all messy!!! Like when we got the email from the president I couldn't even concentrate in class anymore. Like I understand everyone's doing the best possible to get through this, but I just don't think these online classes are going to work. 

Sarahi Vargas, Anthropology, Senior
Who would've thought that my last semester of college would be spent quarantined inside my home and taking classes online in my pajamas? What was supposed to be the "grand finale" to my educational career, has now become a setting where fear, panic, worry, and unease creeps in as I don't know what to expect for the future, let alone the next day. As someone who is at a higher risk because I have Lupus, an autoimmune disease that suppresses my immune system, I have to take extra precautions to protect myself. So please don't be offended if I keep an extra distance from you and don't have enough energy to respond to you right away. I am most likely keeping myself protected from the "spring breakers" who don't understand what social distancing and "stay at home" means. 

Jessica Olvera, "The Bulletin's" Co-Sports Editor
How has my college experience been turned upside down? Honestly, It's completely f**cked up. Going to classes gives me a greater sense of taking responsibility for myself when it comes to my school work. I work at a grocery store and with all the chaos COVID-19 has caused my job has been way more demanding than usual. Going to school was my "break" from the job. Being on campus gave me i don't know, motivated me to stay on top of everything and now having to change it all up and be online sucks because now I have to figure out the online tools and get used to a new way of learning.

Hulisses Lopez, 25, Major undeclared
Life after having society shut down almost every social gathering and public spaces has not been entirely bad.  The thousands of zombie movies and apocalyptic video games during my childhood I would say have prepared me for this type of situation. 

It sucks not being able to go to the theater or go to the gym, but the plus side to this "apocalypse" is the ability to have most of the city to myself.

As a photographer, I spend most of my time looking for areas that aren't full of people, but now that most of the world is locked in their homes I'm able to go out and have the world to myself while still keeping my social distance.  No people, no traffic, everything is peaceful now….I guess it's my introverted dream becoming a reality.

Ulises Rodriguez, "The Bulletin" Staff Reporter
I had to go through a transitional change and didn't have time to process the evolving changes due to COVID-19 (coronavirus). I'm jobless and don't know when I'll be able to get back to work. This was supposed to be my year. A summer trip to Europe, graduation, and getting out in the work-field and in a matter of days my life came crumbling down. I feel like I've been robbed. I'm devastated that there's a slight chance that my family and friends might not get to see me walk.  I'm coping with trying to find my daily routine and it's been challenging. I'm trying to keep my mind, body and soul healthy.

Violeta Rocha, Senior, Journalism Major
[These days] have been stressful and overwhelming only because this has never happened before. So, along with many people, I do not know how to digest everything that is going on. We are still getting our education, it has just moved online. For me I'll be fine. I meet with my class via zoom and it is just as fun as it was face to face meetings. People should see this as a good thing because they are trying to help us prevent spread.

Nora Banuelos, Senior, Psycology Major
The coronavirus has put a halt to certain aspects of my daily routine. I can't go to school and separate myself from other responsibilities and focus on my classes. Having to turn my homework desk corner at home into a "classroom" for my four classes is ridiculous. Having to completely change my way of learning in the middle of the semester is now another item on the laundry list of issues I have to somehow manage through. Seeking a higher education comes with its hardships already. I rent a room, I unfortunately don't have the privilege of being with family and have been self-supporting myself since I was 13. COVID-19 has changed everything.

Darlene Maes, "The Bulletin" Staff Reporter
With all this shit going on it's confusing and very depressing. Being single and recently dumped you want to go out and meet people, but its difficult when your stuck at home with both of your sisters face-timing their boyfriends. It's depressing being at home and not being able to do things to get your mind of things. It also sucks seeing my dad, who is the bread winner of the family, stress out and trying to go out and make money to help us out.  What is upsetting me is people going out and not taking this quarantine very seriously. Young adults are still going out to others houses and having a party and it's really stupid. But one bright side is that I get to get rid of stuff I don't need and save money from not going out. 

Julissa Casillas, "The Bulletin" Staff Reporter
With each passing week we are all venturing into the unknown—a weird mix of calm then sudden anxiety—and trying to process what is happening within our country and now balance that with homework is hard when you can barely put together a cohesive thought let alone try to write some thesis paper.

Destiny Jackson, Senior, Journalism Major
It has been weird, interesting, and scary these days. It seems so surreal and I don't think I've fully registered how serious it all is.  I feel horrible for all of my friends who are seniors and don't get to have their last semester be something special (though everything that is happening is pretty one of a kind). I am worried that due to such a quick change, there will be problems with giving out clear instructions on assignments, along with problems with grading. Many professors already have difficulty with inserting grades, now they have to use technology they weren't prepared to use. I am fearful for the complications that will arise. 

Nova Blanco-Rico, "The Bulletin's" Photo Editor
I feel very conflicted with my studies. Since the break, I've been feeling very lethargic and unmotivated to do my work.  I think it's the fact that there is uncertainty of how the rest of the school year is going to end is what is affecting me.

I feel uneasy knowing that almost all students have to switch to online classes. I personally don't really have a problem with the online classes because my classes wouldn't be that hard to transition onto zoom; however, I still feel uneasy because I don't like the idea of learning online. I'm curious to how this will affect other students because I know some classes just aren't teachable online. Also, I know there are some professors that are hard to learn from in class, so I wonder how my fellow colleagues will handle their online class.

Chrissna Sin, Senior, Business Administration: Management and Human Resources
Quarantine fucking sucks. I've realized that I'm like a plant. I need fresh air and sunlight to survive. I know we all do, but maybe I need this more than the average person? I don't know, but what I do know is that I miss school, which is not a phrase that I say often.  

I am more of an in-person class type of person so this whole online thing is not my cup of tea. In fact  technology overall is not necessarily one of my strongest qualities.

Anxiety is already creeping in when I start thinking about having classes through Zoom. Will my internet lag? Will Zoom freeze up in the middle of the lecture? 

All of these thoughts will be roaming my thoughts for the next few days. 

Brenda Verano, "The Bulletin" Staff Reporter
The only thing I'm trying not to do is panic because nothing good comes from it. I don't live in fear but in caution. I do have a mother with an autoimmune disease that I have to think about. 

I am pretty bummed out that regular class was cancelled because being on campus made me feel like I was productive and just meeting new people was great. I'm not going to lie, there was someone that caught my eye but now I can't even say a simple hello or invite her out to a bar.

Overall, I am enjoying that this moment is exposing the greed of capitalism and the true colors of the people in charge of this country. I mean it is something that has always been a given but I do hope people really reflect if this country is really about what dreams it sells to the people that actually make it run.

Andrea Mendez, "The Bulletin" Staff Reporter
Finding out that my classes are now online classes is a little frustrating, but I guess I can work on assignments at home now. I'm taking advantage of the time I can spend with my family, which I'm really grateful about. I'm not fearful, whatever happens will happen. I'm just glad I'm with my family, and I'm hoping this will end soon. Honestly I feel like this coronavirus is just teaching us about self reflection, how to have good hygiene, how short life is and it's showing everyone's true character and colors.

Ruby Munoz, Junior, Journalism Major
As a senior, there are some big things I was looking forward to like the Dolore Huerta Graduation, but there's a lot more little things that I'm going to miss about my college experience. Things like being in our newsroom, eating chicken tenders for the 100th time at the Sports Lounge and fighting for parking in Lot 6. Remembering these things, I cried. A lot. I know I'm not the only graduating senior who feels like their last semester got cut short or like the cancellation of events means they won't get to celebrate their accomplishments. It's sad that everything ended so abruptly for everyone.

Destiny Torres, "The Bulletin's" Lifestyle and Entertainment Editor
When I heard we were being asked to go home I thought maybe I could relax my body, but that does not seem to be the case. My mind is just not computing that I'm not at school and it doesn't help that everyday there seems to be no good news about the world's current condition. 

Right now however, I don't feel stressed and I don't feel relieved. I'm in this unnatural state. I've been asking everyone what is going on but it seems as though nobody has an answer.

Robert Rios, "The Bulletin's" Co-news Editor
This whole situation about this virus is just out of control. I've never said this before, but I honestly miss going to school.  I miss waking up late, being in a rush to be able to make it on time for my 8:30 a.m. class and then see my friends in between classes and doing homework with my friends in the Student Union. This situation really sucks!

Jeanette Montoya, Junior, Journalism Major
The past two weeks for me have been a bit confusing, I'm constantly checking my blackboard and emails to see if my professors have updated us one what's going on. Although it feels good to have a week off during the semester it's still a bit stressful because we don't know what's going to happen next. Having professors postpone assignments can be a bit confusing because I'm not sure if I should work on certain assignments.

Alexis Granados, Senior, Business Administration
I wouldn't say that I feel saddened or angry about the coronavirus situation, but it does feel rather strange, like everything in my life has been put on hold. But at the same time, it does feel kind of relaxing to now have so many assignments due on a later date. As for the virus itself, the only thing that scares me are the people who aren't taking things seriously.

People have to realize that this is a pandemic that might stay with us for a while. So please wash your hands and do what the CDC tells you to do.

Dayzsha Lino, Co-news Editor
csudhbulletin