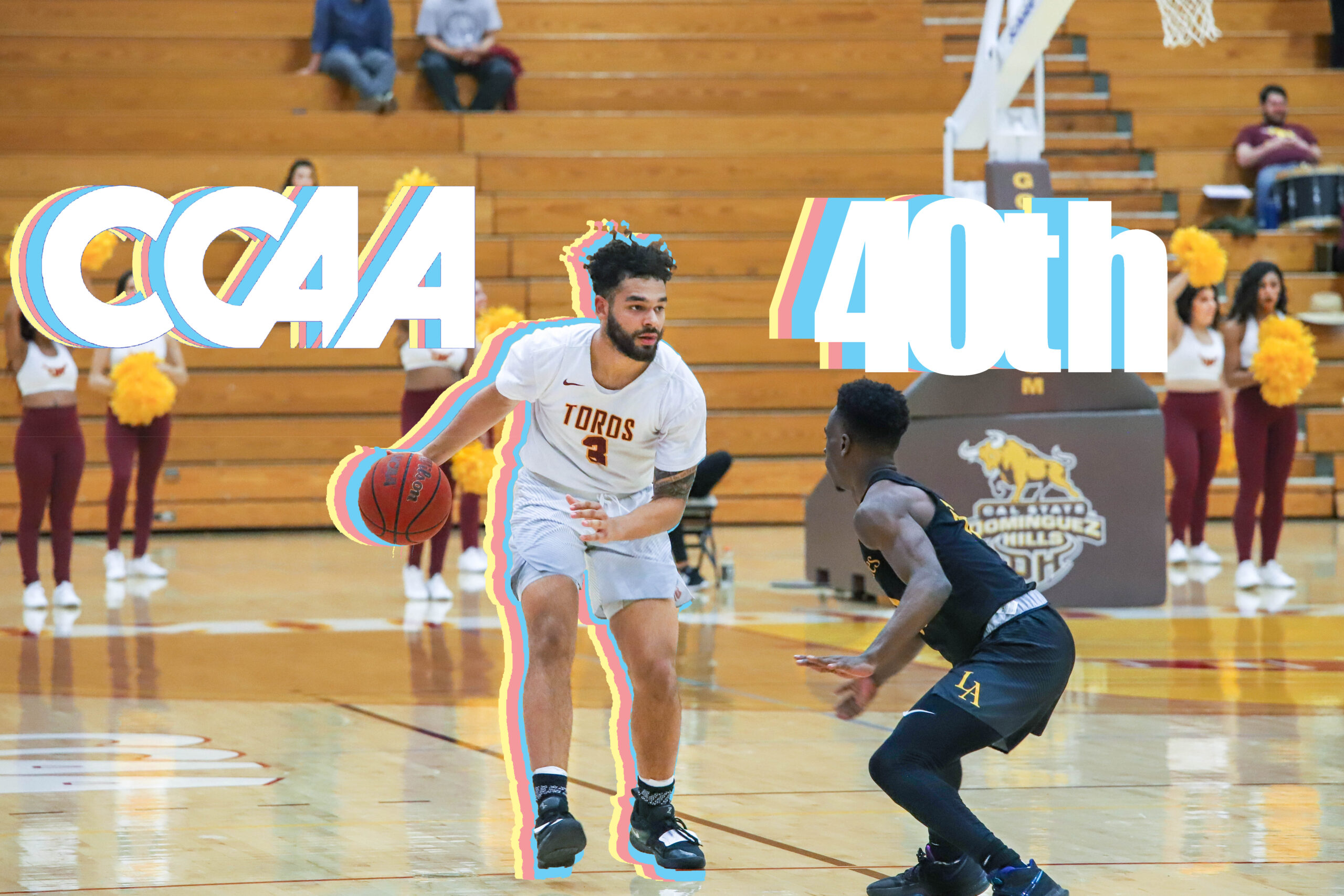 This year will mark CSUDH's 40th anniversary of joining the California Collegiate Athletic Association (CCAA) since 1980. Photo by Nova Blanco-Rico.
---
By Taylor Ogata, Staff Reporter
The California State University, Dominguez Hills athletic program has been around since 1969 and last year, celebrated its 50th anniversary. But this year, another milestone was reached.
The Toros have now been in the California Collegiate Athletic Association (CCAA) for 40 years, having joined in 1980. Even before then, CSUDH has had a long history of success.
CSUDH is one of 13 universities in the CCAA, which is the most prominent National Collegiate Athletic Association (NCAA) Division II conference in the United States. The CCAA boasts 154 NCAA National Championships, including the three soccer championships that our past Toros teams have won, which is far more than any other Division II conference in the nation.
Currently, CSUDH offers nine sports: men's and women's soccer and basketball, baseball, softball, men's golf, women's track and field and volleyball.
When the program first started, there were other sports offered, like men's volleyball and badminton as well as women's cross-country, but those have since disappeared.
Among the 154 NCAA National Championships within the CCAA, the Toros have won four of them: women's soccer in 1991, men's soccer in 2000 and 2008 and women's track and field in 2011.
CSUDH also boasts nine NCAA West Region championships in baseball (1987), women's soccer (1991, 1997 and 2009) and men's soccer (2000, 2001, 2005, 2008 and 2009).
The Toros have also won 33 CCAA Conference Titles: 10 men's soccer, seven women's soccer, six women's basketball, four men's basketball and three each for baseball and softball.
CSUDH has had a total of 134 All-Americans, including 95 individuals. Three of those All-Americans have been named most decorated and two of them are females: track and field alumnus Carmelita Jeter and Chanel Parker (six First Team awards each). The most decorated male athlete is men's soccer alumnae Kevin Gallaugher, who won four First Team awards (two each in 2009 and 2010) as well as a Third Team and Honorable Mention award in 2008.
In the Toro Athletics Hall of Fame, there are only two inductees so far: baseball alum Jon Alia and men's soccer alum Kyle Holland. The CCAA Hall of Fame however, consists of four CSUDH alumni, which are the aforementioned Jeter, Parker and Gallaugher as well as men's soccer legend Kei Kamara.
All athletic activities are suspended until further notice due to the COVID-19 pandemic, but the Toros look to get back to glory once the pandemic has passed.
csudhbulletin