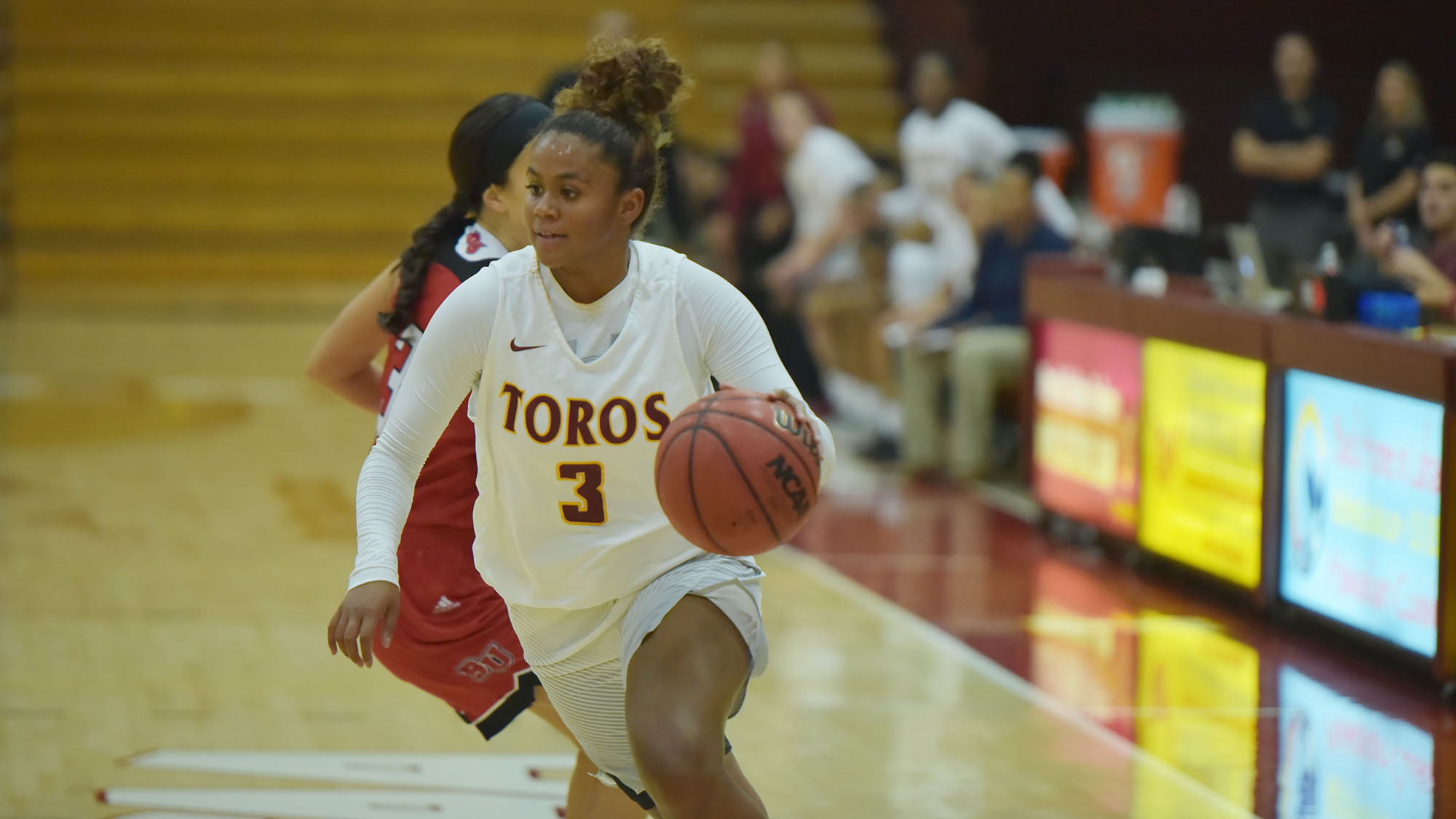 By Joseph Baroud
Staff Writer
A tenacious defensive performance in the second half by the CSUDH women's basketball team keyed a come-from-behind, 74-65, victory Saturday over Biola University, the Toros' second win this season in as many chances.
The back-and-forth game saw the Toros pull out to a six-point advantage at the end of the first period, thanks to a Heaven Holmes' three-pointer at the buzzer. But outscored 19-7 in the second quarter, including a seven-minute scoreless drought, the team trailed by six at halftime.
"We came out kind of underestimating them a little bit," said third-year coach John Bonner. "But I think after halftime our players made a decision to come out and lock in defensively and just execute our principals. "We believe in protecting the paint and protecting the perimeter and I think in the second half we locked in and did those things."
The team pressed Biola the whole length of the court defensively to start the second half and didn't relent the whole 20 minutes. Biola was perplexed and completely unprepared and folded under the Toros' defensive pressure, which yielded 22 turnovers on the game.
Offensively, the Toros were led by senior Heaven Holmes. Although she didn't start, Holmes posted 24 points, including 5 for 11 shooting behind the arc. And all were needed as the rest of the team went 3-14 from behind the three-point line.
Bonner said he left it up to his strong core of seniors to lead the Toros out of halftime.
"We have a group of seniors and they understand what it takes to win in this conference and we have two returners that have been here for three years with us. So, they understand what it takes and I think it was just a switch for us to kinda turn it on and understand that our defense has to fuel our offense. I think once they put that in their minds, they came pretty successful."
Bonner said the second half was the kind of team he expects to see a great deal of in 2018.
"I think ultimately for us, shots won't fall all the time," he said. "So the big emphasis for us is to be able to defend, and I think we didn't do that as well as we would like to in the second quarter. But I think in the second half we picked that up and you kinda get to see what our brand of basketball is all about."
The Toros play next Nov. 16 in Alaska versus the Alaska Nanooks at 3:30 and the next day versus Alaska Anchorage at 8:30 p.m.  
You can watch the live stream video by visiting the CSUDH athletic's website, www.gotoros.com.
Photo from gotoros.com
csudhbulletin