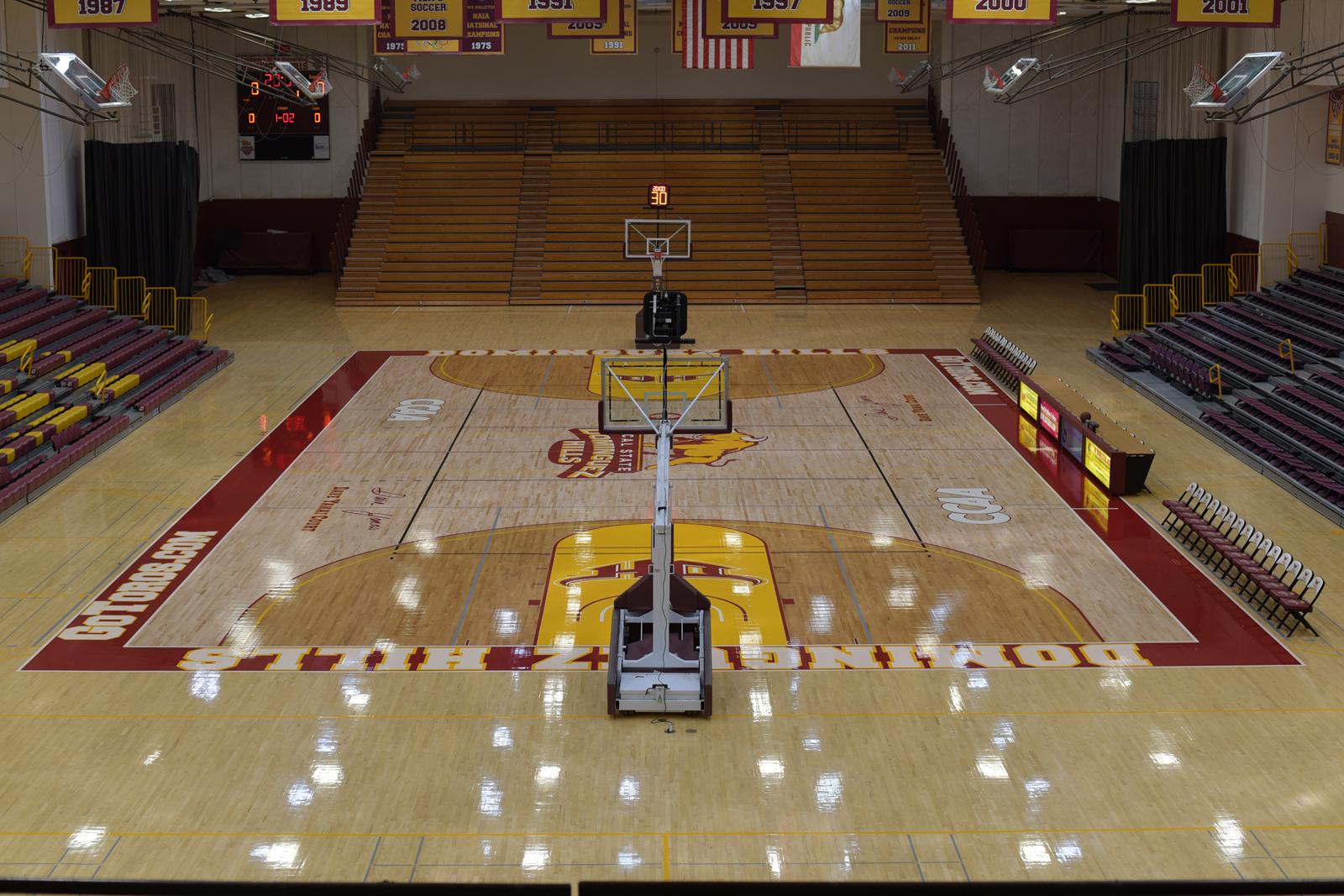 The Torodome sits empty since games for the 2020-21 season were axed in December. Photo by CSUDH Athletics.
By Daniel Tom, Contributing Reporter and Anthony Garza, Staff Reporter
It's been almost a year since student-athletes donned the cardinal and gold Dominguez Hills wordmark across their chest. Throughout this time, we've seen both professional leagues and Division I programs enter bubble environments that follow strict protocols when it comes to testing and mask requirements.
At the Division II level, primarily with the California Collegiate Athletic Association (CCAA), all has been quiet. After surges of COVID-19 and strict stay-at-home orders plagued the state, the CCAA elected to utilize the wait-and-see approach when it came to the start of athletics this school year.
In May, following the announcement from former Chancellor Timothy White that CSUs would remain online for instruction during the fall semester, the conference elected to suspend fall sports until further notice. In September, a similar verdict was made regarding the spring semester, but no further guidance was established from the conference in terms of sports being played in the spring.
After months of contingency plans and meetings amongst university presidents and the conference, the tough decision was made in December to forgo plans to compete this academic year and look forward to a return in fall 2021.
This decision, while expected, was disappointing to both student-athletes and fans who longed to return to action. Instead, they're forced to watch schools around them compete. But, what was the dialogue like between the conference and school officials among the CSU system?
According to conference commissioner Mitch Cox, "many discussions were had between the CCAA, university presidents, and officials from other conferences jumpstarting their athletics restart, in the end the numbers were evident on what would be happening after [major] holidays that university presidents felt it wasn't worth trying."
While disappointed with the outcome, Cox believes that this was the right decision to move forward.
"It's frustrating for everyone in athletics, but the alternative of having someone getting really sick or die from this [disease], it had to be health and safety be the number one priority."
On the other hand, other Southern California conferences such as the PacWest announced in November that a phased-in return of sports would begin. The conference's athletic competition included in-region (pod) games divided into Northern California, Southern California and Hawaii.
---
Commissioner Bob Hogue was pleased his conference could make the jump and align things to where athletes could have a chance to compete this school year.
"This is a big step forward for the PacWest in our continuing efforts to safely return to competition during these challenging times," Hogue said.
Hogue believes the guidelines and contingencies in place provide the best possible opportunities to give student-athletes a sense of normalcy in unprecedented times.
"We've been working hard to create the right conditions for student-athletes to have meaningful seasons in a way that minimizes risk and is in accordance with local, state and federal guidelines. We are looking forward to seeing student-athletes back to playing the sports they love."
Commissioner Cox and the CCAA hope with the distribution of vaccines and a drop in case numbers allows students to return to campuses for instruction in the fall as well as competition. Until then, we continue to watch both collegiate and professional sports have seasons and wait in the shadows for our opportunity to return to play.
csudhbulletin