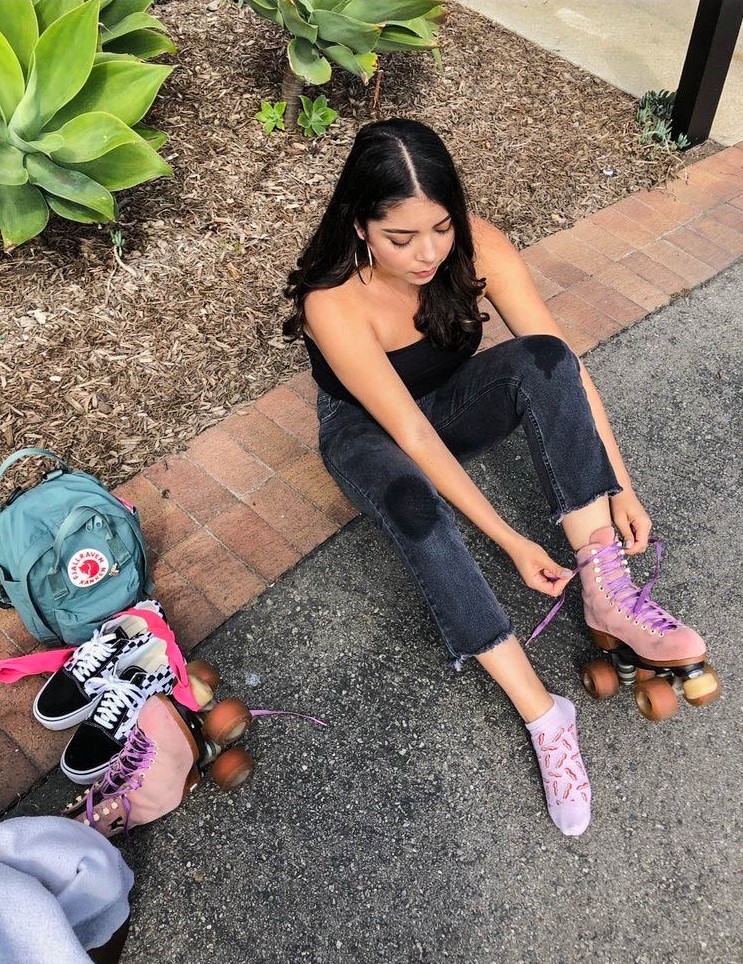 Cora Cuevas, CSUDH alumni, preparing to roller skate by tying her purple shoelaces on her pastel pink Moxi roller skates. Photo courtesy of Cora Cuevas.
---
By Ruby Munoz, Staff Reporter
Roller skating and skateboarding have been popular for many years. It's an escape to a favorite skating rink or skatepark. A journey passing from city to city. Skating is being on the streets with friends hyped on adrenaline.
While skating is usually viewed as a masculine activity, not every skater looks the same. It doesn't only look like a guy who has bloodstains through his worn-out jeans from a day of trying to get a new trick down. Skaters are also women who give their blood, sweat, and tears repeatedly attempting to perfect a new dance move or skill.
Skating culture has changed over the years. It's evolving into a movement of women's empowerment. Gender stigma in extreme sports is becoming a thing of the past, so skateparks and rinks aren't just occupied by men.
Parks, rinks, and the streets of Los Angeles look different in today's skating culture. You'll see women skating their hearts out, either shredding at the skatepark, or jam skating at the skating rink which is a fun combination of dance, gymnastics, and rhythm, all while wearing skates.
"I think in the past couple of years, the girl skater level has improved tremendously. For me, I feel that the gender stigma is not really present in the skate community," Mami Tezuka explained. "Female skaters like Lizzie Armanto sometimes skate in male contests, and I feel that the skate community sees individuality more than gender."
Tezuka is a professional skateboarder who competes in global skateboarding competitions all around the world.
"I think roller skating has been more empowering than ever recently because it has grown tremendously in the pandemic since people were trying to find new hobbies," Cora Cuevas, a CSUDH childhood development alumna, said. "It's amazing to see so many new people get into skating and not be the only girl at the skatepark anymore compared to five or six years ago."
Skating unifies women and all of the community to come together as one. The diversity and culture in roller skating and skateboarding are rising from generation to generation.
"I started roller skating at 10 years old. My oldest brother plays roller hockey so I'd always go watch him at his games, and I wanted to skate too. I received a white pair with purple wheels on Christmas and loved them so much, "Jaqueline Rosales, an advertising and public relations major at CSUDH, said. "It's almost an instant connection when you meet other women who skate. It's a beautiful feeling once you get the hang of it."
Rosales expressed that she loves roller skating because it makes her feel as if she is floating, and skating to her favorite songs is peaceful and therapeutic.
"I skate every day because it allows me to tap into pieces of me that I never knew existed," Kim Dorris, an advertising and public relations major at CSUDH, said. "When I skate, I feel free, I feel expressive and artistic, I feel liberated."
Dorris expresses that roller skating has taught her to push herself to learn new moves, and it has helped her cope with her anxiety.
Dorris said at 37 years old roller skating has improved her self confidence as well as her self-esteem, and has helped her deal with her stress. She also mentioned that she read how exercise helps brain health, which is another reason she chooses to continue going outside and skating.
According to a study conducted by the National Library of Medicine, exercise improves brain functionality.
Female-sponsored skateboarder and surfer, Julianne Penelope Hernandez expressed her gratitude for being able to inspire other women to skate.
"When someone tells me I inspire them, it's the biggest compliment to me because I never saw myself as someone who inspired others, but to know that I can do that to some people is everything to me," Hernandez said.
She said that the people who inspire her are all women who encourage and empower women to go outside and dedicate themselves to learning extreme sports, such as skateboarding.
"I think being original and being yourself is cool for skateboarding, whether you're a guy or a girl," Tezuka said. "I hope other girls see the importance of being yourself and showing the world who you really are."
Female skaters have empowered and inspired women every day and culturally impacted society by involving themselves in an extreme sport.
csudhbulletin