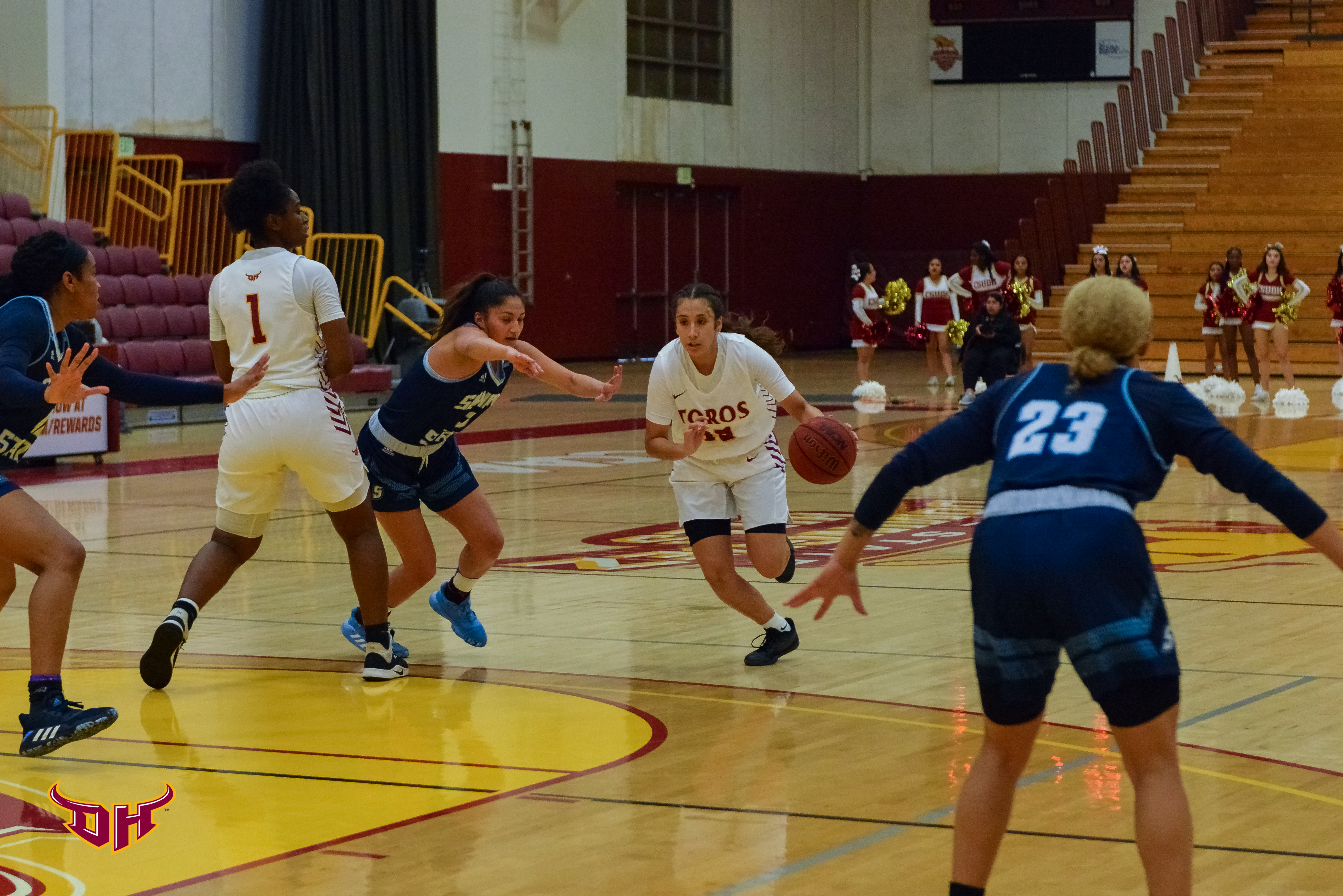 Gabrielle Leos (center) works hard to be a role model for girls everywhere on and off the court. Provided by Jena Rouser, CSUDH.
By Daniel Diaz, Staff Reporter
One conversation that can spark heated debates is women and professional sports. The male perspective of women's sports often gets taken incorrectly by one side or the other.
The truth is, at least for professional basketball, the National Basketball Association and the Women's National Basketball Association are two different organizations. Although they are the same sport with many similarities, they consist of different rules and regulations. The WNBA is the professional basketball league for women, which includes differences such as a smaller basketball and fewer minutes per quarter. The NBA is known for its highlight dunks and athletic playstyle, while the WNBA relies more on teamwork and strategy.
When thinking of women and basketball, the mind instinctually thinks of the WNBA, and rightfully so. However, the presence of female professionals in the NBA has slowly increased over the years and has become a welcomed trend.
Women like Becky Hammon, assistant coach for the San Antonio Spurs, who became the first woman in NBA history to head coach an official NBA basketball game due to the ejection of head coach Gregg Popovich. The Spurs culture has made it so Hammon's contribution to the team and milestones obtained in the game are normal to them. Players respect and listen to Hammon just as much as anyone else on their coaching staff and it shows in-game.
NBA official Natalie Sago and ESPN reporters Rachel Nichols and Doris Burke have exceeded expectations and beaten the odds to get to where they are now. These women are shining examples of job equality and excellence. While some have come before them, it should be recognized that every day they help trailblaze a path for whoever chooses to follow. They are some of the biggest and most recognizable names in their sport.
This realization is motivating for former Bulletin sports editor Jessica Olvera.
"It's one thing to hear about it, but to actually see it on screen and become a reality, that I can do that if I want to," Olvera said. "That it isn't just an idea floating around in your head."
Olvera spent last year writing and editing for the Bulletin and is spoken highly about among her former peers and professors.
The examples that are set for girls around the world by women like Malika Andrews, Allie LaForce, Rachel Nichols, and so many more, is inspiring. Any little girl or boy can watch Nichols rant about the latest basketball headline and think to themselves, "I can do that too".
Across the world, many young girls look up to all women in sports, hoping to follow in their footsteps. CSUDH women's basketball player Gabrielle Leos knows what it means to be a role model for young girls.
"It's not impossible," Leos said. "It may be tougher to get to that point, but it lets them know anything is possible."
Leos' teammate Janelle Sumilong called this, "a good-dangerous" mindset to have.
"They can do anything," said Sumilong. "I have proof, it's on the TV. It's something you can always use more of."
One of the points these two college athletes shared was the impact Kobe Bryant had on women's basketball, and how great a loss he was for them.
The idea that women carry such weight and influence in a male league is beautiful and impactful on the lives of girls and women around the world. Women in professional sports have a responsibility to be role models as well as an example for people around the world, and it is often underappreciated.
In this changing landscape, the NBA product and all it entails should be a beacon for equality with a simple message that extends beyond a ball and a net into daily life: If you are good enough for the job and have earned it, the job should be yours.
csudhbulletin