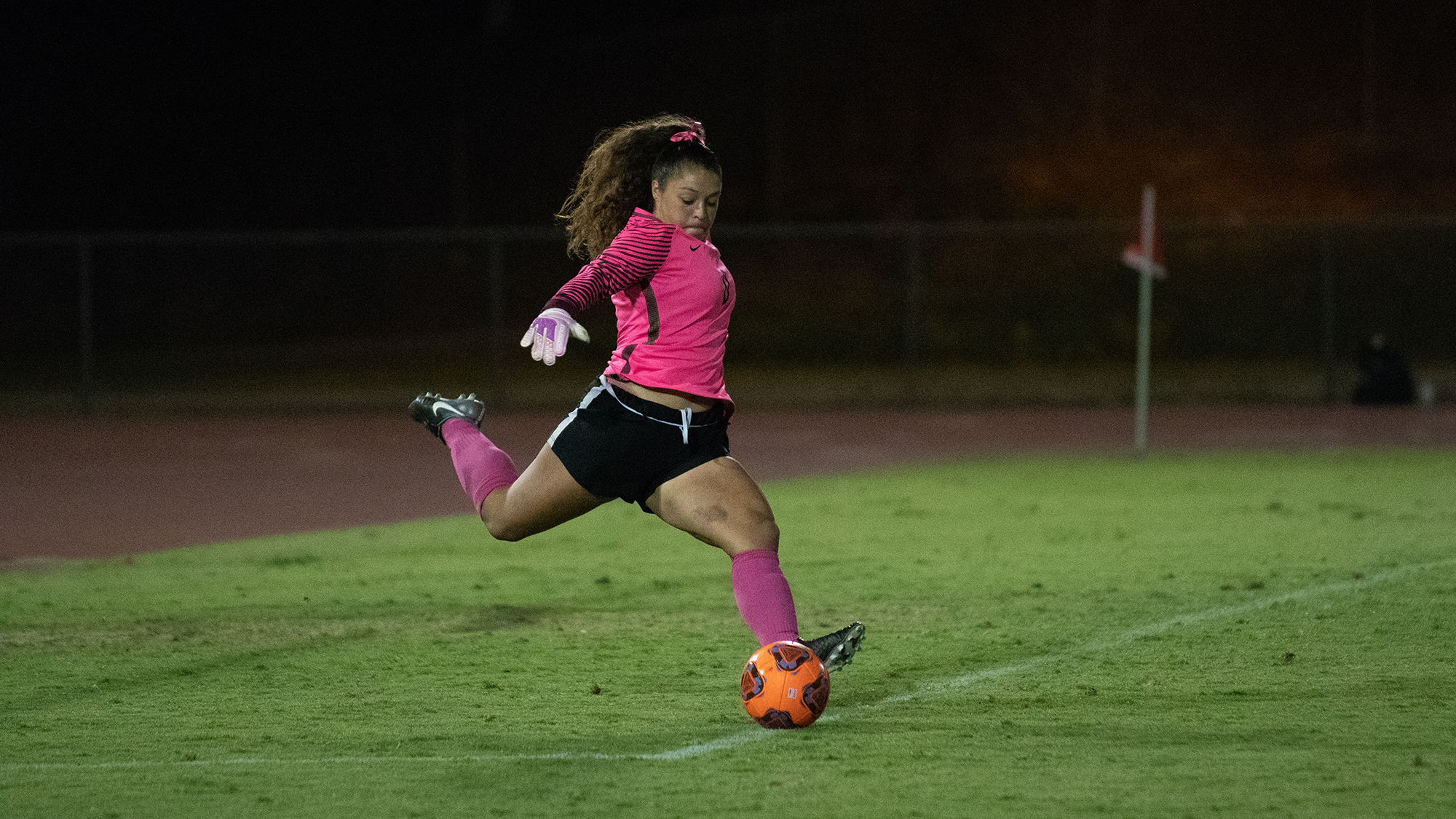 By Omar Hassoun
Staff Writer
Though the CSUDH women's soccer team finished the season 3-10-4, the team's final weekend of the season was perhaps its best two back-to-back games. Thursday, Oct. 25, the Toros overcame a 1-0 halftime deficit against Cal State San Bernardino to win 2-1 in extra time, followed by a double overtime tie two days later against Cal Poly Pomona on senior day
"In my 35 years there is not a team that deserved a win more than they did," said head coach Marine Cano of Thursday's victory.
Considering the Toros lack of scoring this season—they scored two goals only three times—the game seemed out of reach early, as CSUSB forward Vanessa Gonzalez scored in the fifth minute. The Toros struggled in the first half with CSUSB dominating the field, and four offsides calls and 10 fouls were called against them, which kept the ball in the Coyote's control for most the time.
Defensive play continued to be the story of the match until CSUDH midfielder Holly Kaemerle brought some spark to the script in the 80th minute. Kaemerle delivered on the much-needed goal to tie the game 1-1.
"Our speed on the ball was much quicker today, and we were able to beat them in the second half and overtime," said Kaemerle, who had been out of action for two weeks due to a concussion." "It was a super exciting game."
Outshooting the Coyotes 16-11 on the day, the Toro's explosive presence was felt by CSUSB goalkeeper Sophia Cortez who allowed two goals in full time.
The second goal came as the game went into overtime. Midfielder Kaemerle continued to bring the heat and led her to team to an offensive drive in the 94th minute.
CSUSB Haidee Doran fouled Kaemerle as she drove the ball to the goal, ultimately leading to a red card and a Toro' penalty kick.
CSUDH forward Sofia Litendahl made the penalty kick for the score and ended the game for the first Toros victory since facing Fresno Pacific Oct. 11.
"I was able to bury it, I'm very happy," Litendahl said. "In the second half we were getting attacks and able to score. We went to OT and kept trying, and we won. Even when you're down 0-1 you can come back. It's the mentality."
In the next game, the finale of the season, junior goalkeeper Ruth Soto delivered one of her finest performances as a Toro, blocking 16 shots in the scoreless tie against Cal Poly Pomona.  For the season, Soto and the Toros finished with the most saves in the California College Athletic Association, 116, and the second highest save percentage, at .871.
Before the game, seniors Kylee Patterson, Ariana Longmore, Theresa Butcher and Rosaura
csudhbulletin