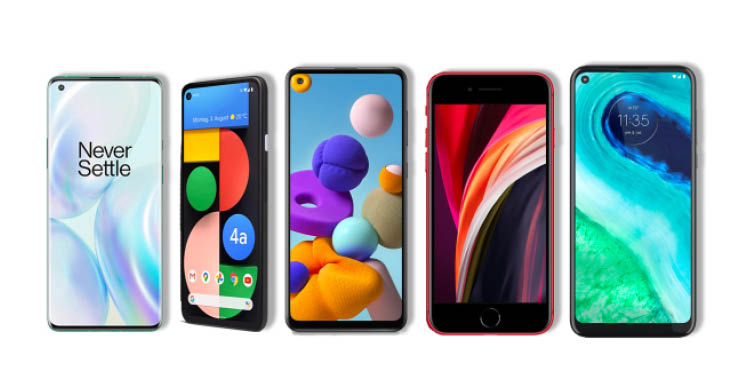 A composite of OnePlus8, Google Pixel 4a, Samsung Galaxy A21, iPhone SE 2020, and Moto G FAST. Composite by Joseph Witrago.
---
By Christopher Martinez, Layout Assistant
During these times of financial uncertainty, many people have lost jobs and may not be able to afford a new phone or a pricey bill that they once were able to.
In recent months, there have been companies who have announced budget smartphones that are just as good or even better than the top tier devices released by the top phone companies, along with cheaper cellular plans to go along with them. Here are the top 5 budget smartphones and phone plans of 2020.
OnePlus 8
OnePlus, known for their groundbreaking budget smartphone manufacturing, has released the OnePlus 8, at launch was $699 but can be picked up now from their website for $599. This phone offers 5G capabilities offering the user speeds 100 times faster than 4G. OnePlus 8 also has a 90 HZ fluid display, Qualcom Snapdragon 865 with 5G, a slim curved display and a 48 MegaPixel triple camera.
This phone offers everything you would want in a budget phone that feels premium with a 90 Hz refresh rate the screen will feel more responsive. The snapdragon 865 chip brings the power of a $1,000 phone into a $599 price tag. The strongest feature this phone has is the 48mp camera giving the user to take stunning high definition shots that compare to that of the Google Pixel and iPhone cameras.
Google Pixel 4a
The Google Pixel line up is known for taking some of the best pictures out of any smartphone beating out iPhone and OnePlus, even Samsung. Now you can have one of the best taking smartphones for only $350 with the Pixel 4a one of the newest pixel phones of 2020.
The Pixel 4a offers a lot of neat new features such as live transcribing for the new recording app and the ability to answer spam calls for you so you don't have to. The 4a also includes a full-screen 5.81-inch screen with a hole punch cut out, 6 gigabytes of ram and 128 gigabytes of storage, Qualcom Snapdragon 730G with an octocore processor two quad core processor cores that work together and faster compared to a single dual core processor and 12.2 megapixel dual camera.
Although the 4a does not include top-notch specs, it does learn the way you use the phone and works specifically to how you use your phone making it one of the best phones for people who are not spec heavy enthusiasts.
Samsung Galaxy A21
The Samsung Galaxy A series is known for packing the best essentials of Samsung into one device and getting rid of the top end specs that aren't essential. The A21 comes in at only $199.99 for an unlocked version of the phone.
The A21 offers a 6.5 Infinity o-display (a hole punch front camera), quad rear camera, long-lasting battery, fast charging and expandable memory.

This phone features an octa-core processor and 32 gigabytes internal memory with support for an external Micro SD up to 512 MB. The A12 gives everything you want in a smartphone at more than half the cost of its flagship counterpart.
iPhone SE 2020
One of the most popular phone manufacturers in the world is Apple, the iPhone SE 2020 brings the best Apple phone back as they fit their most recent chip into an older model unit. In a time when Apple is breaking the one thousand dollar mark and in some cases even the two thousand dollar mark, it is nice to know you can still get an iPhone for under $400 with the SE 2020 starting at $399 or $229 with a trade-in.
The SE 2020 offers a modern twist on one of the most popular sized Apple device ever with durable glass back and aluminum rails, a 4.7-inch Retina HD display, A13 Bionic chipset, high definition camera and touch ID.
Moto G FAST
Motorola was once king of the smartphone industry back in the early 2000's at a time where they innovated the tech world.Now, in a drastically different way they are making budget friendly devices such as the Moto G Fast which is marketed as "Ultra-fast. Ultra-responsive" on their website. This phone retails at $199.99 but is on sale now for $169.99.
The features of this fast phone are an ultra-fast performance with Qualcom Snapdragon 665 processor and 3 GB ram, 16MP triple camera system, 2 days of battery life and a 6.4 HD+ Max Vision display on an ultra-wide display.
With many people out of work and the uncertainty of returning, these five phones could help someone in need of a new phone that wont break the bank.
To pair along with budget friendly phones would be a budget friendly phone plan that is easy on the wallet.Check out the budget-friendly options listed below:
Ultra mobile PAYGO by T-Mobile
Ultra mobile provides customers with 100 minutes of talk, 100 texts and 100 MB of 4G LTE data for $3 per month. That data can also be used for Mobile Hotspot. Once all of the minutes have been used then it is an additional 3 cents each minute, 1 cent per text and 3 cent per MB.
Mint mobile
Mint mobile offers four separate phone plans each billed in three month increments. The cheapest is $15 a month giving the customer unlimited talk and text, national coverage and 3 GB of 5G or 4G LTE capabilities, all for $45 every three months.
Metro by T-Mobile
Metro by T-Mobile offers a high speed of 10 GB a month for $40. This plan includes unlimited music streaming on 40+ apps and for every line added $10 dollars is taken off of your bill, hotspot is not included. There is also a cheaper $30 plan with 2 GB of high speed data per month.
Cricket
Cricket offers two different budget plans, one is $30 per line a month for 2 GB of high speed data and unlimited talk, text and picture messages in the United States. Along with HD voice and Wi-Fi calling with compatible phones.
The second plan offered is a $40 per month line and $35 per month with auto-pay with 10 GB of high speed data. This plan also includes Unlimited Talk, text and picture messages in the United States and HD and Wi-Fi calling with compatible phones.
Visible
Visible is prepaid phone service by Verizon offering a $40 per month plan with taxes and fees included. This plan offers unlimited high speed data, messages and minutes. All on Verizon's 4G LTE Network with Wi-Fi calling available on compatible devices. This plan also includes Mobile hotspot, you are also able to cancel anytime and keep your same number.
Visible does not have stores and have their entire business online, There is also a family-style plan where you can have four separate accounts and pay as little as $25 per month.

csudhbulletin