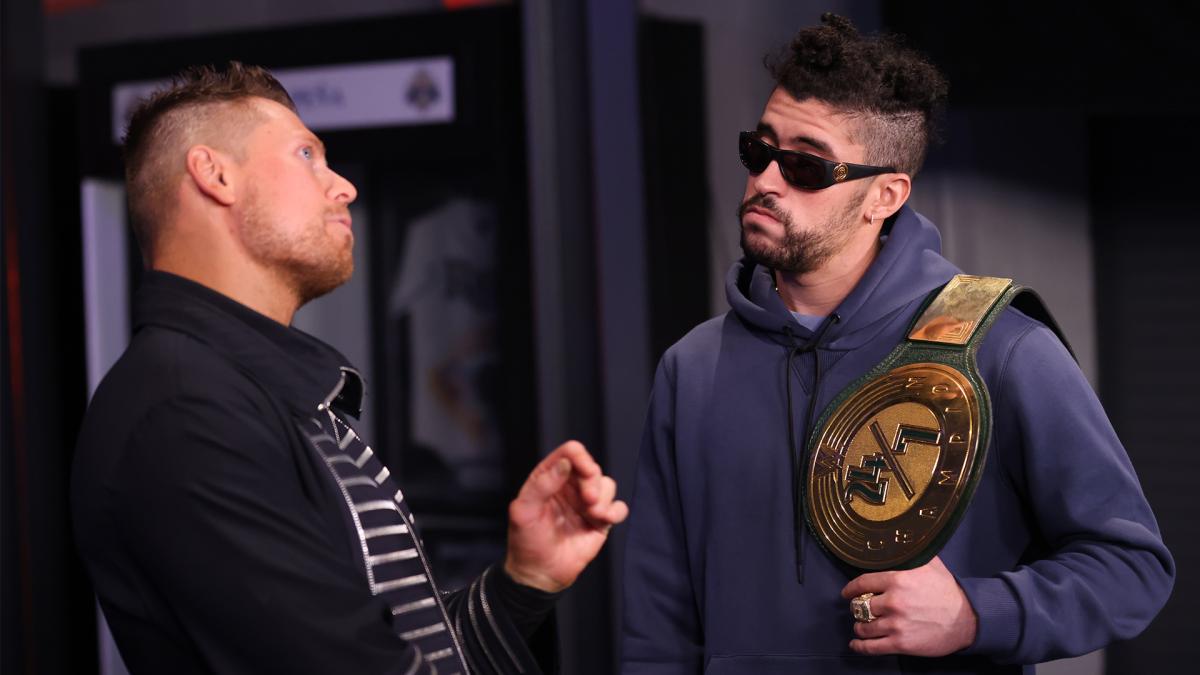 Photo courtesy of WWE.
By Daniel Diaz, Staff Reporter
"Bad bunny baby." If you are a fan of Bad Bunny's music, you may have heard the news of his recent World Wrestling Entertainment (WWE) debut. Bad Bunny is a known wrestling fan, having wrestlers like Ric Flair and "Stone Cold" Steve Austin cameo in a few of his music videos.
He has name-dropped many wrestlers in his lyrics like the late Eddie Guerrero in "I Like it Like That" with Cardi B, and most recently with his hit single "Booker T" which features the Hall of Fame wrestler himself.
The wrestling craze of the old World Wrestling Federation (WWF) in the late '90s is in the past, and it can feel at times like you stand out when you admit to being a wrestling fan nowadays. Yet, here comes a household name like Bad Bunny endorsing the sport in his own way.
Bad Bunny is one of many high-profile celebrities to appear on WWE programs in what has become a tradition for the company. The first Wrestlemania in 1985 featured Muhammad Ali and Mr. T, Wrestlemania 23 in 2007 featured former U.S. President Donald Trump shaving the head of WWE chairman Vince McMahon following a 'Hair vs. Hair' match, and Wrestlemania XIV (14) in 1998 was highlighted by Mike Tyson, to name a few.
Wrestling fans can distinctly remember the voice of Jim Ross screaming, "Tyson and Austin! Tyson and Austin!" in Tyson's debut on Raw in 1998. Most recently, four-time Super Bowl champion Rob Gronkowski hosted Wrestlemania 36 after previously appearing at Wrestlemania 33 in 2017 to help his friend and WWE wrestler, Mojo Rawley.
Bad Bunny is one of many musical guests to perform for WWE, like Cyndi Lauper at Wrestlemania 1 and Machine Gun Kelly at Wrestlemania 28. Names like John Legend, Flo Rida, and Little Richard have lent their voices to WWE. The music industry and wrestling industry have worked together for decades.
Some musical artists have even worked with WWE in creating music and entrance themes for wrestlers. Motörhead created Triple H's entrance song "The Game" and Snoop Dogg helped make Sasha Banks' entrance music "Sky's the Limit."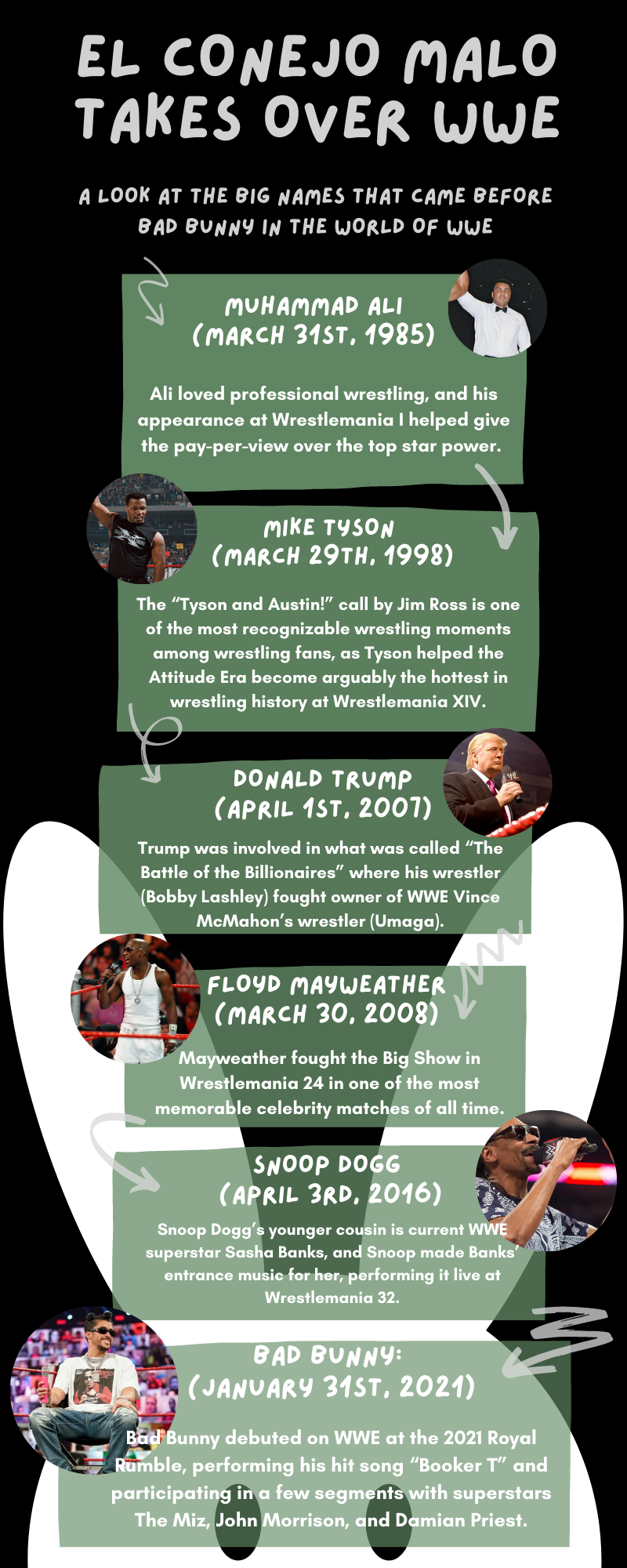 ---
The music superstar's run has been one of the best parts of 2021 so far for the WWE. Bad Bunny debuted at the Royal Rumble in January, being greeted by wrestlers backstage. Two of those wrestlers were heels (bad guys), The Miz and John Morrison.
Later in the show, Bad Bunny treated the televised audience with a live performance of his hit song "Booker T" with Booker T himself on stage next to Bunny. He also delivered a beautiful splash from the top rope which became his viral Royal Rumble moment.
Bunny's time at the Rumble felt natural, as fans watching could feel his love for the wrestling business almost jump off the screen as he jumped on the Miz and Morrison. His WWE merchandise has also made him the top earner of 2021 thus far in merchandise sales.
California State University, Dominguez Hills alumnus and Chicana/o studies major Bryan Cantero, found Bunny's time in WWE to be organic.
"For me as a fan of both WWE and Bad Bunny's music, seeing this finally happen is really exciting," Cantero said. "It was a really smart move by WWE and after I saw him in the programming, I subscribed to their streaming service."
Bunny has even won a championship: The 24/7 Championship belt. Now, the truth is the 24/7 belt is a gimmick belt. The rules of the belt are that it can be won or lost at any time and at any place as long as a referee is present. The 24/7 belt is most associated with superstar R-Truth, who runs around the show constantly losing it and winning it back. On the Feb. 15 airing of Raw, Bad Bunny won the title during a backstage segment thanks to an assist from Damian Priest.
WrestleInc.com reported that Bad Bunny has been training at the WWE Performance Center in Orlando, which has led many to speculate he is preparing for a Wrestlemania match in April, possibly teaming up with Priest to take on Miz and Morrison.
CSUDH freshman and sociology major Yurisa Aguilar expressed interest in paying to watch a match featuring Bad Bunny, which is the overall goal for the partnership between Bunny and WWE.
"I think him being able to work in the WWE is a big opportunity to get him into new ways to attract people to his music," Aguilar said. "If he had a Wrestlemania match I would definitely watch. I am a big fan and this would be something I would pay for."
After hearing about Bad Bunny's WWE debut and his potential Wrestlemania match, Teddy Toro issued a challenge of his own, telling WWE to "make the match" via Twitter.
Teddy acknowledged Bad Bunny's creativity and usage of his platform to bring awareness to social and economic issues. Teddy is a fan of Bad Bunny and his music, but that hasn't stopped him from eyeing Bunny's 24/7 championship.
"I always wanted to be the 24/7 champion," Teddy said. "When I saw Bad Bunny was the champ, it only made sense to challenge him at Mania."
Bunny earned his first Grammy on Monday for best Latin Pop or Urban Album with his album "YHLQMDLG" and performed his hit song "Dakiti" at the award show alongside Jhay Cortez.
Bad Bunny was the most streamed artist on Spotify in 2020, with songs like "Yo Perreo Sola" and "Te Bote". His music success has led him to live out the dream every wrestling fan had as a kid: appearing on WWE and making huge waves.

csudhbulletin