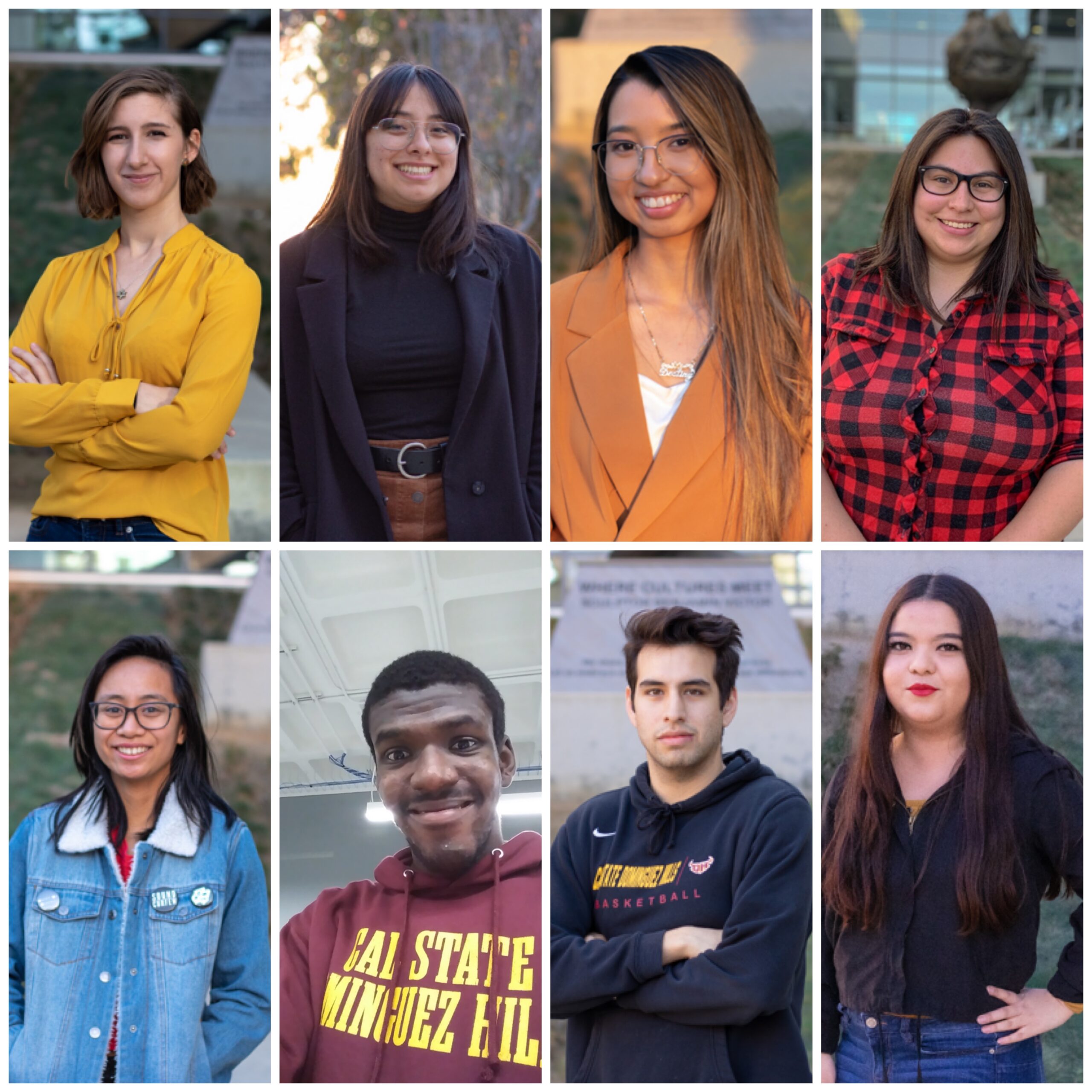 Our graduating seniors say goodbye to CSUDH in these touching letters.
---
Dominguez Hills,
College has been an unexpected journey of twists and turns that have led me to find my passion, new friends, and a series of life lessons that turned me into the person I am today. If you asked an 18-year-old me where she would be at 24 she would say that she would be done with school and already in a career. Taking as long as it did to get through my undergrad was not a part of the plan, I did not expect to change colleges three times nor did I expect to end up at California State University, Dominguez Hills for my final four semesters. But, I am glad that I did. I have learned more in my program than I could have hoped for, I have met some of the most amazing people that I would like to count as life long friends and I have found a piece of myself that I did not know was missing on this campus. This was not how I wanted to say goodbye but like every twist and turn life presents us with you have to follow the road where it leads.
"Home is behind and the world is ahead, and there are many paths to tread." J.R.R. Tolkein
– Jordan Darling, Editor-in-Chief
---
Dear CSUDH,
I love you. I really do.
My undergrad experience here has been the best years of my life. And the hardest.
My transition from high school to college was one of the toughest things I ever had to overcome. I was the first to graduate high school in my family, and now I'll be the first to graduate college.
I remember freshman orientation like it was yesterday. I remember walking out of the library after I applied for my fall 2015 classes and the sun was setting. I looked around campus, closed my eyes, felt the breeze against my face, took a deep breath, and smiled. I thought, "This is my new home, but I know time will fly by and soon, it won't be my home anymore." I never took a second of my time on campus for granted.
I wouldn't have survived without the friends and professors that I've met over the years. Thank you to my summer bridge friends, my second family at The Bulletin, and the COM professors who took the time to mentor me. Risling, Beers, Burkey; I don't know where I'd be without you.
This campus is a part of me that I will carry with me forever. I'm sorry I didn't get the chance to properly say goodbye to you. 
Once a toro always a toro, Yeymy Garcia, Managing Editor 
---
CSU Dominguez Hills became my home away from home over the past four years. It's a place where I found my passion for writing and was able to hone in on those skills with professors who are just as passionate about my future as I am. It's also where I found my community consisting of friends that motivate me to be my best and lifted me up when I felt like I was at my worst. They're people that I now see as my second family. It feels bittersweet that my college journey here is coming to an end, but it's an experience that I would not trade for the world. Despite the times that we're in, I feel prepared and motivated thanks to my friends and family, my professors, and thanks to The Bulletin which is a big reason my senior year was so special to me. I am grateful for the things I learned here, and the people I have been lucky to cross paths with, but even more than that I am excited for the future that I've been prepared to take on.
– Destiny Torres, Arts and Entertainment Editor
---
It's very hard for me to put into words how impactful the past year working on the Bulletin has been for me. As a writer, you would think it would be easy, I just can't, but I will try.
Two years ago, I walked on to the CSUDH campus for the first time and embarked on a journey that would forever change me. Getting there took me eight years. I walked into most of my classes as the oldest person in the class. I was intimidated and insecure. I felt like I was in the wrong major and that I couldn't compare to everyone else.
One year ago, I began writing for The Bulletin, and for once I felt like I was where I needed to be. I never really had confidence in my writing, I always thought I was just throwing words on a paper in the hope that they made sense. Being in the newspaper gave me the space to find my voice. It helped me find my purpose as a journalist, discover my strengths, and it helped me work on my weaknesses. I can honestly say being on this newspaper and working with the other writers in the newsroom has made me a better writer.
It has been a complete honor to serve as an Opinion Editor this past year. I have met people I will carry with me for the rest of my life. The Bulletin gave this sassy, unapologetically black woman space to grow into a blossoming journalist. I am forever grateful.
– Robin Bolton, Opinion Editor
---
Dear CSUDH,
This is a bittersweet goodbye. I have such a love/hate relationship with you. You were not my first choice but you were what I needed. From the moment I stepped foot on campus after transferring from Mt. San Antonio College, you changed me forever. You took me in, chewed me up, and spit me out. I saw my life change dramatically. The first being my major. I planned to continue my educational path in kinesiology but I ended up going with my other passion for writing. Now I can become a storyteller and a voice for the voiceless through journalism. But I despise you for all that I lost during my two years here. I saw my 16-year sports career end unexpectedly and unfairly because of egotistical coaches who couldn't handle a player who was passionate and spoke her mind for what was right. This changed me forever both physically and mentally. But I trust that karma will serve its purpose. I've never felt so out of place but at home at the same time. I felt at home being surrounded by educated individuals who come from a strong Hispanic background like myself. This gave me a sense of pride knowing that people like me are on the path to bettering themselves. So thank you DH for making me stronger, smarter, more resilient, and helping me to understand that I am and always will be enough to the people and things that matter in life. 
A First-Generation College Graduate, Jessica Olvera, Co-Sports Editor
---
I never would've thought I would get this far in my academic career. So being in my last semester was something that I had been looking forward to ever since going back to school. At Dominguez Hills, although it may not have been my top choice at first, I'm super glad that I came here. I've met so many wonderful people and connections and was able to learn so much. Being in the Journalism program has made me realize just how much I love my major and I'm so thankful that I was able to be a part of it.
My last semester on The Bulletin is one of the things that's the hardest for me to say goodbye to. I loved my experience and wouldn't trade it for anything. Never would I have thought that I'd be on a school paper and love it so much. I've made great friends and loved working with the staff. It was such a great experience and it's something that's really difficult for me to say goodbye to. I just wish the pandemic didn't happen that way I could get to work with my fellow staff and editors in person.
I loved my experience and I'm going to miss it. 
– Angelica Mozol, Social Media Manager
---
Dear CSUDH,
What can I say, when I made the decision to walk through your doors I did not think it was going to be hard to say goodbye. You have been my home away from home for the past two years.
You welcomed me with open arms when I transferred from Long Beach City College where I thought I was never going to leave. If we are being completely honest you were not my first choice, but I am glad you still took a shot on me. A girl with humble beginnings that came from a family of immigrants from El Salvador, who changed history in her family by being the first one to earn a college degree. You made me laugh, cry, and you even made me want to give up. But I didn't. You taught me is that education is not a race, to be brave, and I learned what I am capable of achieving. You also introduced me to people I will forever have a bond with, and that I will never forget.
CSUDH what am I gonna do without you? NEVER DID I THINK  IT WOULD BE THIS HARD TO SAY GOODBYE! Even though I don't want to say goodbye I have too. I have to let another student fulfill their journey with you. You did your job well teaching me the tools I need to move on into the adult world. I just want to say thank you. Even though we couldn't officially say our proper goodbyes on May 15, but once a toro, ALWAYS A TORO. 
Sincerely, Sarai Henriquez, Staff Reporter
---
CSUDH,
Boy, it sure has been a crazy journey these last few months, not what I expected for my final semester. All our classes switched online, we have to maintain social distance, and we are basically stuck inside our houses all the time. It all ends with virtual graduation next week. It's a nice gesture but virtual or waiting until next year to walk, it just won't be as fun.
We seniors can't say we had the most traditional of final semesters before hitting the real-world experience but, we got through it. The health crisis may have taken away our physical ability to see each other and lots of fun activities but it didn't take our determination to think critically, creatively and outside the box, or to keep our focus on our goal. And we got there. So that's something to remember as we head into post-college life. Nothing can stop a Toro when they put their mind to it.
Also, nothing can stop my energetic auntie, who is way more disappointed about not seeing me in a cap and gown and walking with the fellow graduates that I am. But she can still knit her blankets and keep in touch with her family and I know she'll be on my side no matter what happens because she is proud of her nephew because he is hardworking, determined, and willing to take on the world after this historic health crisis in U.S. history comes to an end. 
– Matthew Alford, Staff Reporter
---
The last two years at Dominguez Hills have been some of the best times of my life. I have met some of the most special people in the world. I have built these relationships that will stay with me forever.
From my days playing basketball, to spending time with my roommates in P7, coming to DH was one of the best decisions I could have ever made. This school has set me up to be able to do what I want in the future. One of the biggest aspects about DH that has helped me succeed is a group of professors from the communications department. The group of professors have helped me through my last two years of college.
I want to thank everybody on the Bulletin, from Beers to all the different staff writers and editors. You guys have added a very welcoming and relaxed environment especially during the quarantine.
I know I won't be able to have my actual graduation ceremony but I don't need a ceremony to validate all my hard work over the last four years. I earned my degree and it will feel real once I get that diploma in the mail.
Thank you CSUDH men's basketball, and thank you CSUDH. GO TORO! LETS GO!
– Jackson Cascio, Staff Reporter
---
This is it. The day of my dreams is finally approaching. It's no longer years, months, or weeks. It's days from now. The only sad thing is that I won't be able to walk at my commencement because of the pandemic until further notice. This will still be my last semester at California State University, Dominguez Hills.
It's so exciting! I've been dreaming of this day since I helped out on the 2015 commencement. I saw how happy students were and that inspired me even more.
I came into this school thinking I was going to be a psychologist, and now I'm leaving this school with a journalism degree.
I am going to miss doing so many things. For starters, going to McDonald's before my class starts. I would always get a mango smoothie and that will fuel me up till lunch. I'm going to miss going to the library because that was seriously my favorite place to be when I was on my gap.
Besides academic stuff, your school has taught me so many things I will cherish forever. One of the things that I learned is that no matter how hard things get, I shouldn't give up. Things will always look brighter on the other side.
I just want to thank my family for supporting me in getting my bachelor's degree. I really wouldn't be here if it wasn't for them. I'm dedicating this article to my family.
I also want to thank CSUDH for accepting me into their family. It was an amazing experience.
– Velia Salazar, Staff Reporter
---
I can't at all remember what I felt the last time I was on campus, it felt like any other day. I imagined the last time I would step foot on campus I would feel exhilarated, saddened, and be overwhelmed with emotions because I had finally reached one of my biggest goals, especially because it is one I many times doubted I would reach.
I can shamelessly admit that the biggest obstacles throughout my entire college career were mental health issues. I struggled to get through every single semester. I think back to every morning I couldn't get out of bed, the times I'd actually make it to school, but never step foot out of my car, only to end up driving back home. But, I did it and here I am about to finish my very last semester.
Not only was I able to do it despite these odds, but I'm running to home plate while the world is in the middle of a pandemic…which if you ask me, is pretty phenomenal.
I know finishing my undergraduate studies is something I will forever be proud of.
CSUDH gave me the opportunity to discover some of my passions and learn from some of the most inspirational people I've ever met. Thanks to that, today I am hyper-aware of issues affecting mujeres and I'm dedicated to bringing them to light.
– Yesenia Flores, F19 Staff Reporter

csudhbulletin