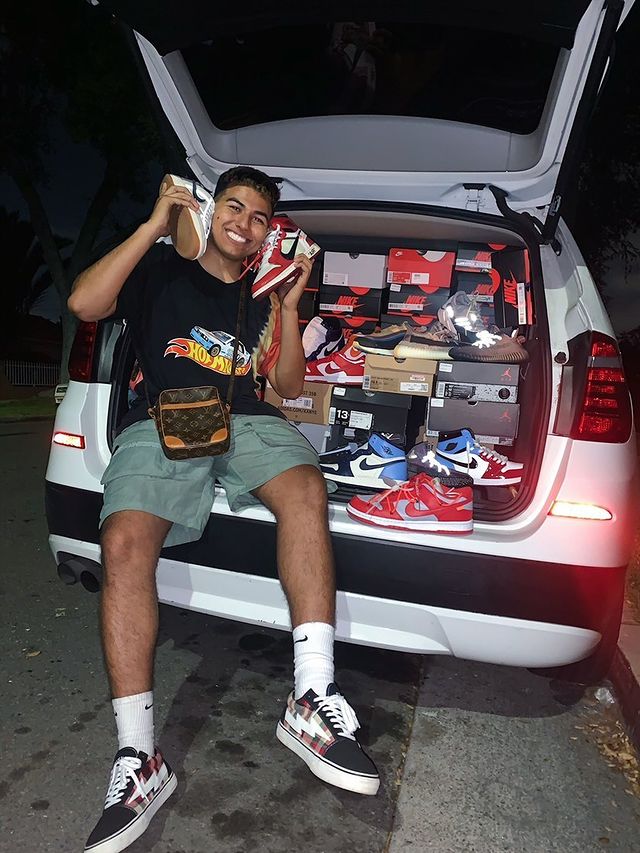 Riding into 2021, Marquez promotes his brand with intention to give back to the community he grew up in. Photo courtesy by Rene Marquez.
---
By Anthony Vasquez, Staff Writer, and Carina Noyola, Staff Writer
Santa Ana native, Rene Marquez is what many would call a sneakerhead, infatuated with the latest releases and collaborations that Nike, Jordan, and brands alike release.
He must have his hands on the newest drops, but not for the sole purpose of collecting. At 21 years old, he's turned his hobby and love for sneakers into a reselling business, TheFlipKicks.
In eighth grade, he found himself paying close attention to what NBA athletes were wearing on the court. The moment he saw the Air Jordan XX8 he felt inspired to research everything he could about sneaker culture. He continued to learn about Jordans and future sneaker releases by following KicksOnFire and Sneaker News, websites that regularly post news on upcoming releases.
The sneaker culture is not only fueled by basketball athletes, but the scene is also highly inspired by music, specifically rap culture. Take Travis Scott, for example, and his collaborations with Nike and Jordan. The sneakers originally retail from $170 to $250 but can resell for over $1,500.
He began attending California State University Dominguez Hills in 2017 and even though he At the time, he worked for minimum wage at a popular shoe store, and he decided to invest some of his money in purchasing products from "hypebeast" brand Supreme, who are sought after for their exclusivity.
Due to the scarce amount of products they release, resell market prices tend to skyrocket. Though the exclusivity of the brand creates a market worth investing in, getting your hands on items is a challenge.
This is why Marquez decided to get a bot, an online automated code used to buy mass amounts of items due to the speed at which they allow the navigation of online releases.
Bots regularly face backlash because of their notorious use and inflation of aftermarket prices, but for Marquez, it was a chance to propel himself forward to start up his business. The bot allowed him to purchase items from Supreme's limited releases at faster speeds to resell for higher profits and keep up with demand.
"There's a lot of negative connotations with bots because it's kind of like cheating," Marquez said. "But at this point in the game it's harder for my business, [and] for me to do it by myself, and if I have the means to do it why not? It's like that saying, 'if you can't beat 'em, join 'em.'"
The initial purchases he made were from Supreme's 2017 fall/winter collection which he sold on eBay and he made more than enough money to pay off his fees.
The reward that came with selling his first items gave him a new sense of purpose, so he decided to change his major from political science to business administration. At the start, he had no idea the platform he had launched for himself would be so successful.
The birth of The FlipKicks began on Instagram during his sophomore year in 2018. What started off as a side hustle to pay off school debt became a full-fledged business with over six thousand followers.
The sneaker and streetwear reselling business operates online through platforms like eBay, Grailed, OfferUp, and his own website, but he also locally sells at flea markets.
He nearly made $7 thousand his first year which served as enough revenue to keep him enticed to see his business through. He said that at the time it was worth a shot to seize the opportunity to grow and lead him to his version of success.
"I ended up [earning] $30 thousand in sales last year, and this year I'm aiming for $80 thousand," he said.
He enjoys using Excel to see his profits and see how much he's able to sell each shoe for, along with the increase in their value over time.
Marquez builds his inventory by researching sneakers using reselling sites like eBay, GOAT, and Grailed. He also receives messages from new and returning customers who are interested in buying and selling shoes to him. While sneakers are his main inventory, he also buys used/vintage clothing he feels have the potential for profit.
"I stay away from buying items from Goodwill or Salvation Army because those places are where I once shopped and it doesn't feel right to buy from there and resell," he said regarding resellers who scalp from these locations that typically serve as resources for lower-income.
The platform he created led him to famous clientele like former professional basketball player, Nate Robinson, and Alex Walter, a popular Youtuber who customizes and reviews sneakers.
His plans to expand his business were delayed because of COVID-19. This year's sneaker-related conventions like SneakerCon and ComplexCon, which are central locations to buy, sell and network with other sneakerheads and streetwear entrepreneurs, were canceled.
Marquez also wants to give back to his community and serve as a go-to spot for locals to shop.
Marquez is currently working with Segerstrom High School and giving away sneakers to members of the school's football team who demonstrate hard work throughout the season, in hopes of motivating them.
"I want to get to the stage where I'm able to give back more than what I had," Marquez said. "If you have enough, give back. If you were in that position earlier, why not try and help people that are there now."
For more information on Rene and The Flip Kicks follow him on his personal Instagram,
the Flipkicks official Instagram page, and the FlipKicks Website.

csudhbulletin